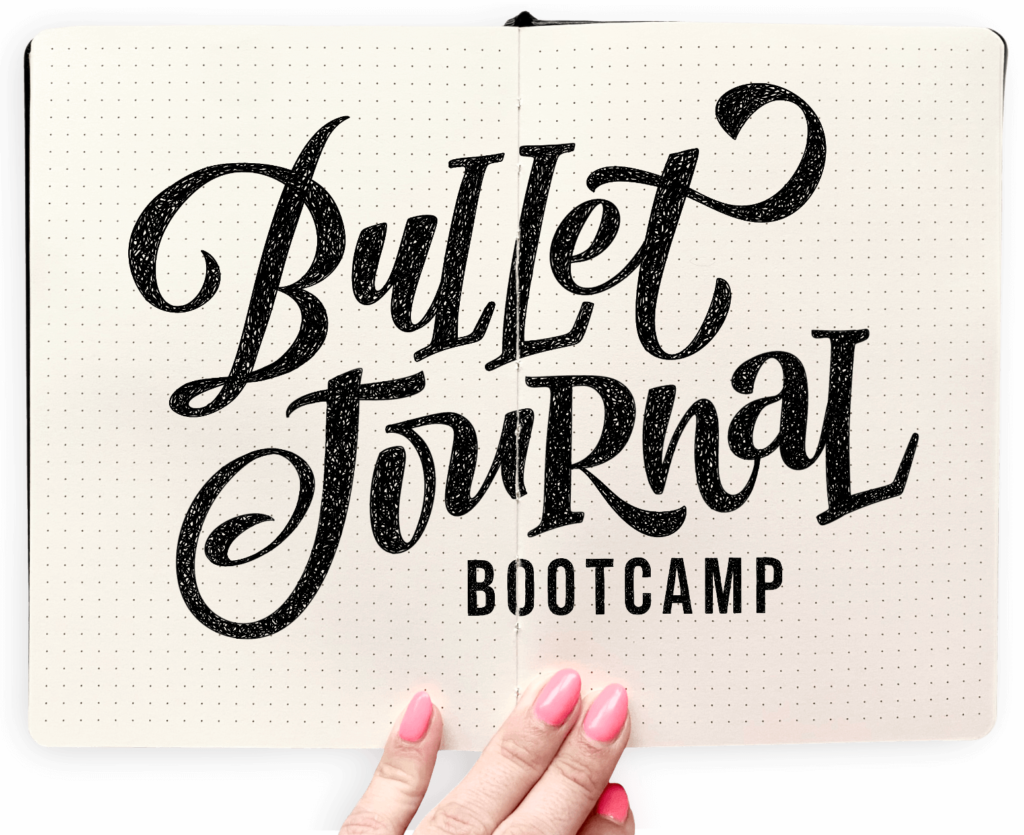 Make bullet journaling the fastest, easiest and most beautiful way to organize your life.
BULLET JOURNAL BOOTCAMP
- ONLINE COURSE TAUGHT BY AMANDA ARNEILL -
One book will change everything
Use your love of creating beautiful art while you:
schedule your year

plan your monthly schedule

confidently start each day

save time meal planning

stop repetitive tasks

hold all notes and brainstorms

accountably using goal tracking

find gratitude in each day

brighten your world with art

plan, brainstorm and list it out

breathe and know that you've got it under control
Black Friday Sale Pricing is only available for a limited time.
Don't miss out!
What is bullet journaling?
YOUR OWN BEAUTIFUL SYSTEM
Bullet journaling is a systematic approach to organization within a notebook. But, just because there's a system, doesn't mean that your creativity can't shine. That's where this course comes in.
Learn to marry the systems of the bullet journal practice with the needs of your life and the ability to create the most beautiful journal you've ever had.
And no, it doesn't have to take any more time than any other organizational system! But it will work better.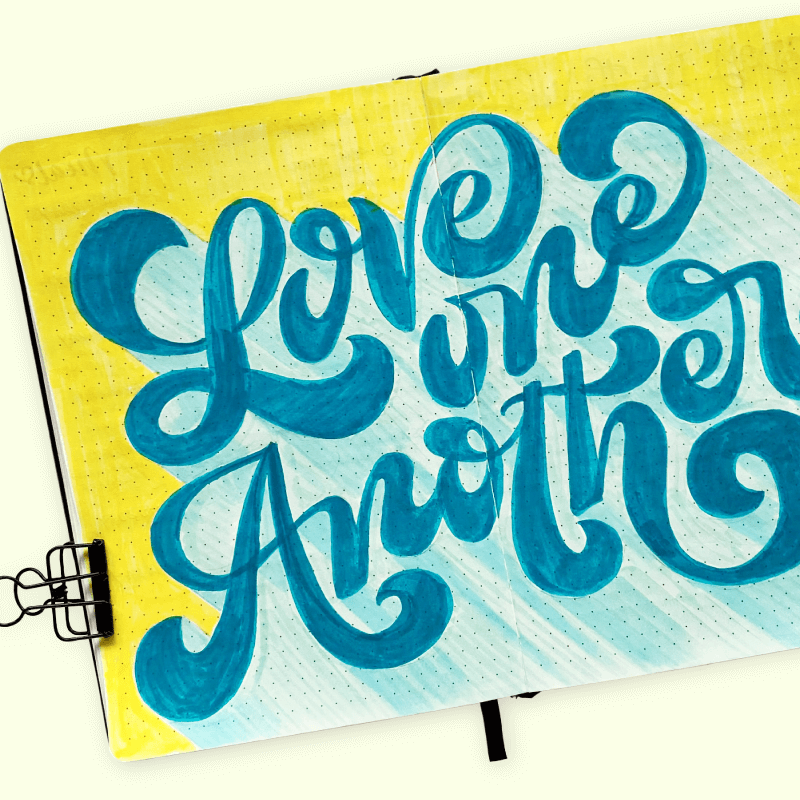 The Parts of Your Bullet Journal
These pages are your reference materials for the whole time that you're using your book. Think annual planning, brainstorming, goal planning, meal rotation, lists of household notes, medical information, long-term projects and goals. You'll be flipping back to these pages all year long, so together we look at how you can design these pages to maximize your time every day.
During your month, you will get specific with goals, track habits, reflect with gratitude, set budgets and build out the way that you want your month to run. Focusing on the month as a whole lets you master every week that comes your way. 
Each day brings its own rewards, though some are busier than others. Whether you choose to focus on your goals, reflect on your days, schedule busy moments or plan with everything at a glance, discover the perfect layout to use in every circumstance. 
There are always ways to add your own artistic flair to your bullet journal! Whether you set aside a whole spread, create in an empty page or letter in the margin, each page is an opportunity to create. However, that being said, with the pages we create in this course, each spread is already a work of art!
Learn with Bullet Journal Bootcamp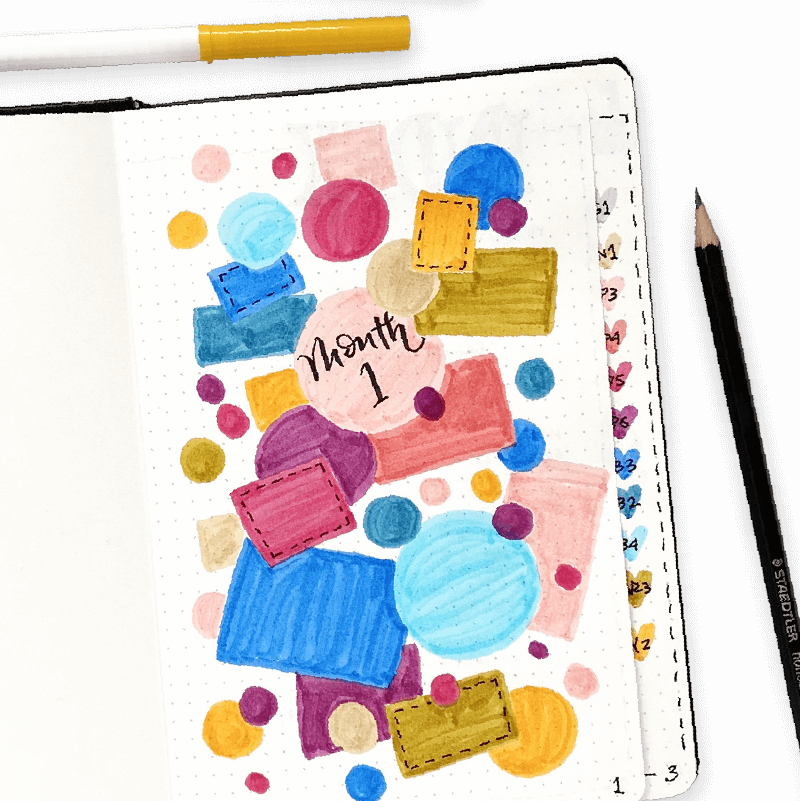 MODULE 1: YOUR BULLET JOURNAL FOUNDATION
Learn all of the basics of your new bullet journal including which one to pick, the supplies you will need, how to write neatly in it, keep it organized with page numbers and create a bullet journal cheat-sheet at the end of your book to make it super simple to create each spread in your book.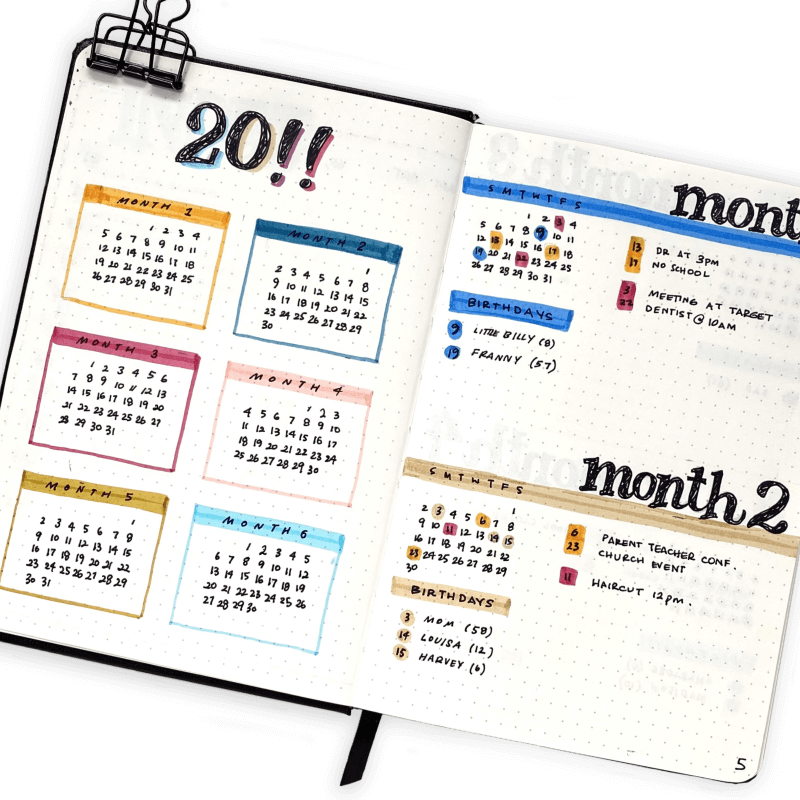 MODULE 2: STARTING YOUR BULLET JOURNAL
It's time to get that pen on the page! Between a quick but eye-catching opening page for your bullet journal, and setting up your index and year overview, you will dive into this new system with confidence.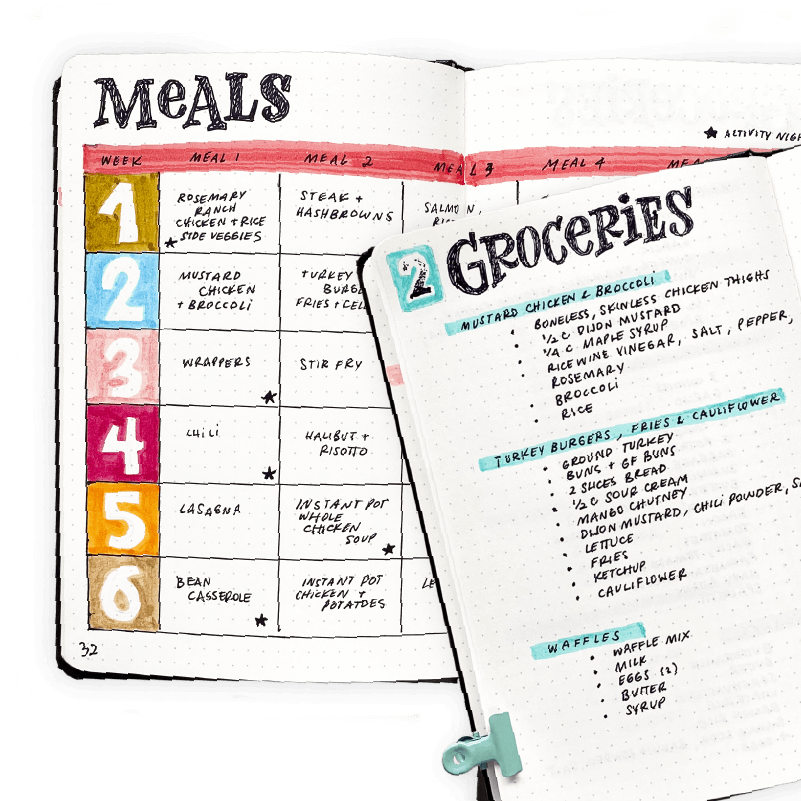 MODULE 3: PERPETUAL PAGE CREATION
This is when your planning begins! What are your goals for the year, projects that you're working on, brainstorms that will help you focus? This is where they will all go. Along with time saving strategies for rotations for meal planning, grocery lists and developing a monthly focus, you won't spend any time wondering what your next steps should be.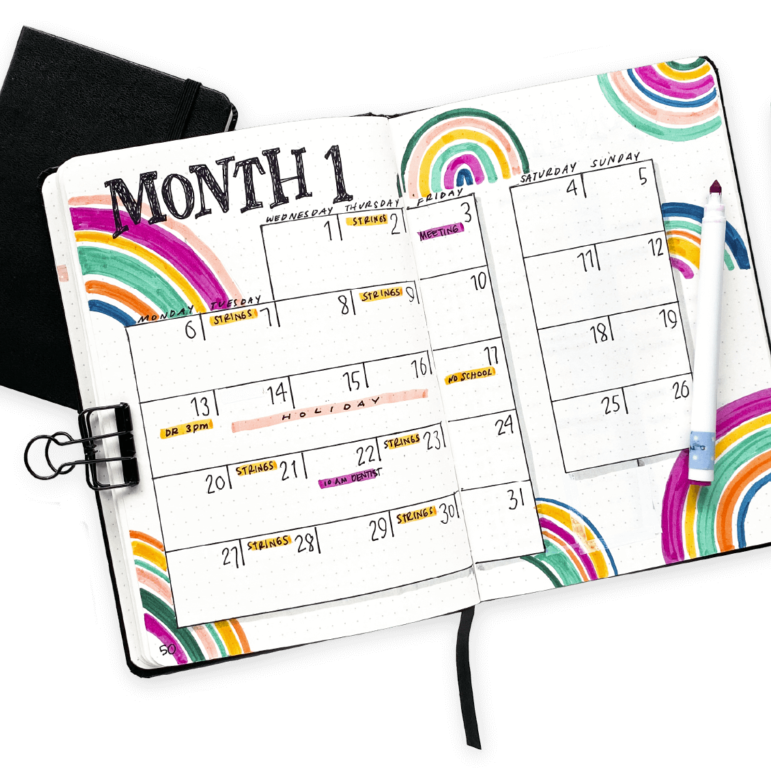 MODULE 4: SET-UP YOUR MONTH FOR SUCCESS
Each month is a new start! Walk through creating a stress-free artistic theme with accompanying color scheme for each month. You'll lay out your easy-to-reference monthly calendar with either a linear or traditional set-up before moving on to personal pages. Your personal pages will allow you to track habits in a positive way, set specific goals and easily see when you've achieved them. To continue your focus on positivity, create a stunning, color-filled page allowing you to quickly track moments of gratitude throughout your day.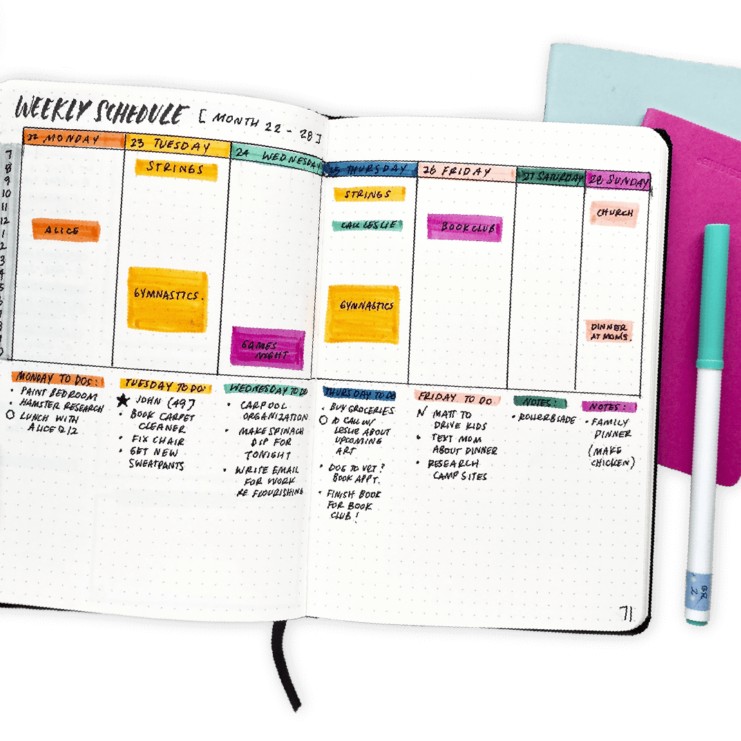 MODULE 5: STREAMLINE YOUR WEEK
Every week is different which means that you will need an assortment of weekly layouts for all of your bullet journal needs. Work together to learn four different spreads that you can use to help you plan goals for the week, reflect on your days, visualize your time and see all of your plans on one page. All of these spreads are quick to create, look great on the page and help bring color and calm to your week.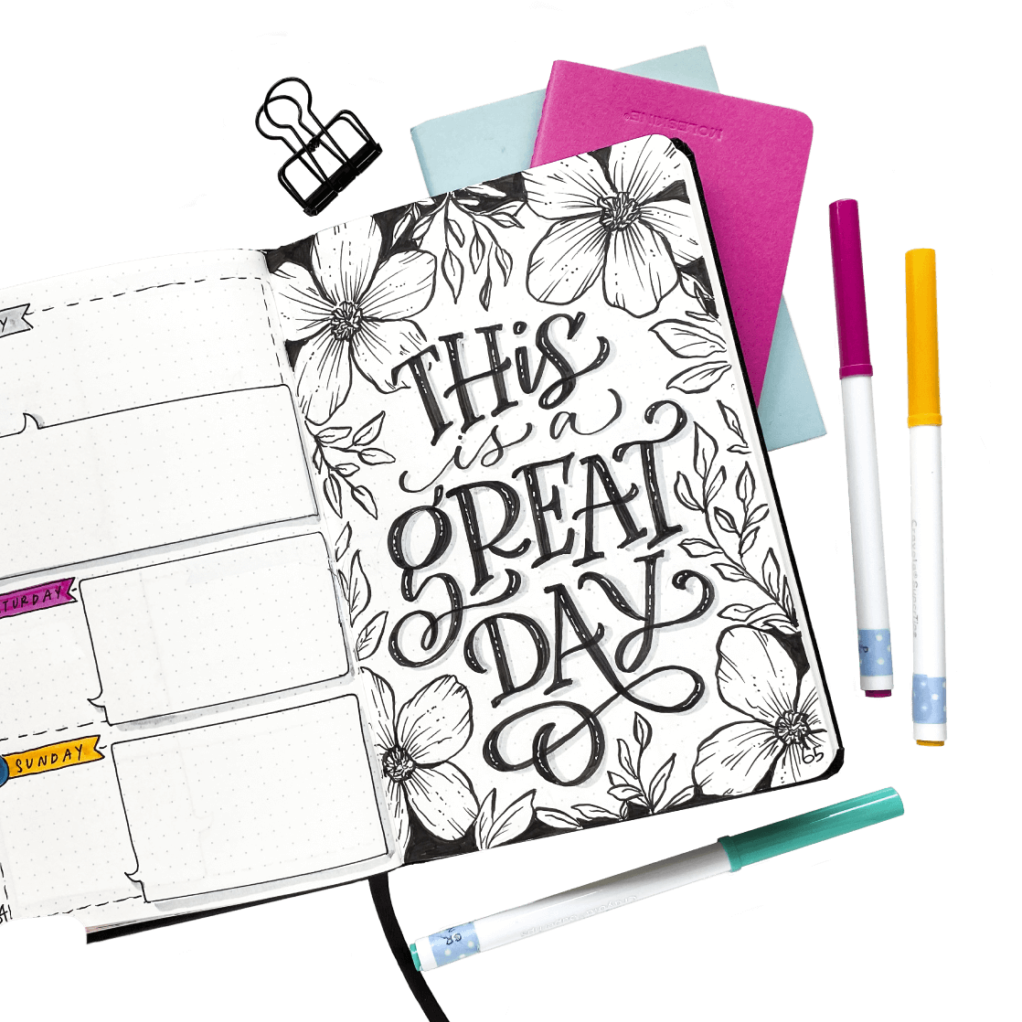 MODULE 6: EMBELLISH WITH ART
Let art and creativity be a natural part of your book! Whether purposeful layouts or art to fill the space that can naturally happen between pages, start to fill in your bullet journal with art. Destress with some focused time in your week as you add your own creative flair to your pages.
MODULE 1: YOUR BULLET JOURNAL FOUNDATION
LESSON 1: Welcome to Your New Bullet Journal (1:53)
LESSON 2: Choosing Your Bullet Journal (8:16)
LESSON 3: Choosing Your Supplies (8:45)
LESSON 4: Your Letters (2:36)
LESSON 5: Using Consistent Markings (4:40)
LESSON 6: Making Dots Easy (3:08)
LESSON 7: Choosing Your Colors (10:43)
LESSON 8: Titling to Your Pages (2:17)
MODULE 2: STARTING YOUR BULLET JOURNAL
LESSON 1: Your Bullet Journal Title Page (8:42)
LESSON 2: Setting Up Your Index (10:07)
LESSON 3: Using Your Year at a Glance (9:45)
MODULE 3: PERPETUAL PAGE CREATION
LESSON 1: Planning With Your Month at a Glance (14:32)
LESSON 2: Project Planning Pages (11:44)
LESSON 3: Indexing Project Planning Pages (2:01)
LESSON 4: Your Year of Goals (12:08)
LESSON 5: Indexing Your Year of Goals (0:52)
LESSON 6: Brainstorm Pages for All (8:49)
LESSON 7: Indexing Brainstorm Pages (2:04)
LESSON 8: Time-Saving Rotating Meal Planning (11:59)
LESSON 9: Perpetual Meal Plan Grocery Lists (5:03)
LESSON 10: VIP Groceries (4:02)
LESSON 11: Indexing Your Meal Planning and Groceries (1:16)
MODULE 4: SET-UP YOUR MONTH FOR SUCCESS
LESSON 1: Set-Up Your Month for Success (2:10)
LESSON 2: Making a Traditional Monthly Calendar (13:22)
LESSON 3: Making a Linear Monthly Calendar (8:23)
LESSON 4: Charting Any Monthly Habits (7:34)
LESSON 5: Visual Goal Success Record (11:25)
LESSON 6: Monthly Goal: Thankfulness Record (5:08)
MODULE 5: STREAMLINE YOUR WEEK
LESSON 1: What Are Your Weekly Spreads (2:18)
LESSON 2: Weekly Tracker: Focus on Your Goals (20:39)
LESSON 3: Weekly Tracker: Reflect on Your Week (11:51)
LESSON 4: Weekly Tracker: Dutch Door Cut Page (8:07)
LESSON 5: Weekly Tracker: Maintain a Busy Schedule (14:01)
MODULE 6: EMBELLISH WITH ART
LESSON 1: List Pages
LESSON 2: Fill Your Page with Art
Plus a comprehensive Course Book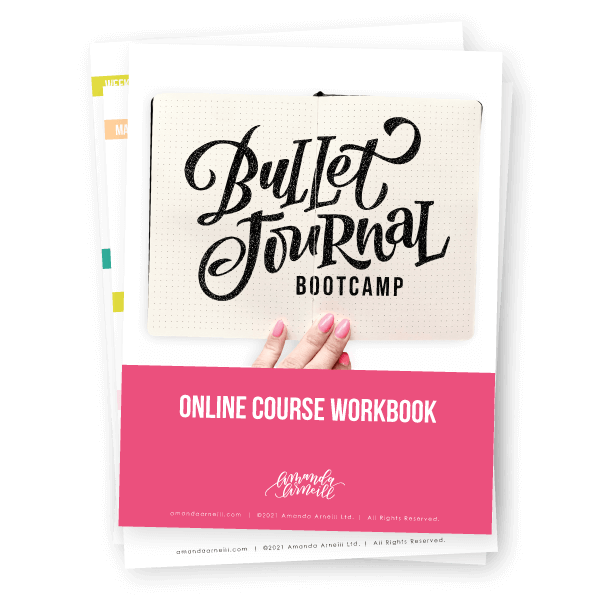 6 modules + 36 lessons = Unlimited ways for a simple journal to change your organization, art and day-to-day life.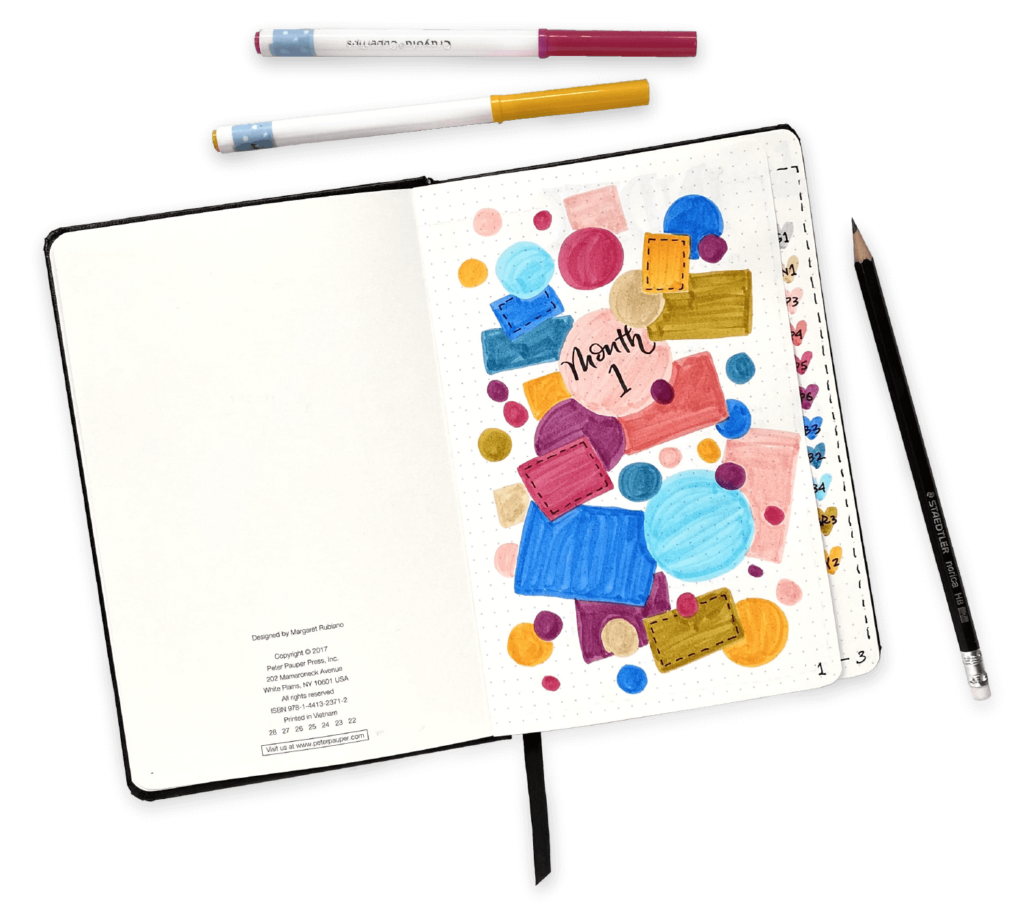 After strategically selecting an overall color set for your bullet journal, creating a shape-based page is an easy way to begin your book with color.
USING YOUR YEAR AT A GLANCE
A bullet journal can start at any point in the year, but you always need an overview of what's coming up. Let's add in colorful visual calendars to allow for far future planning so that nothing gets missed.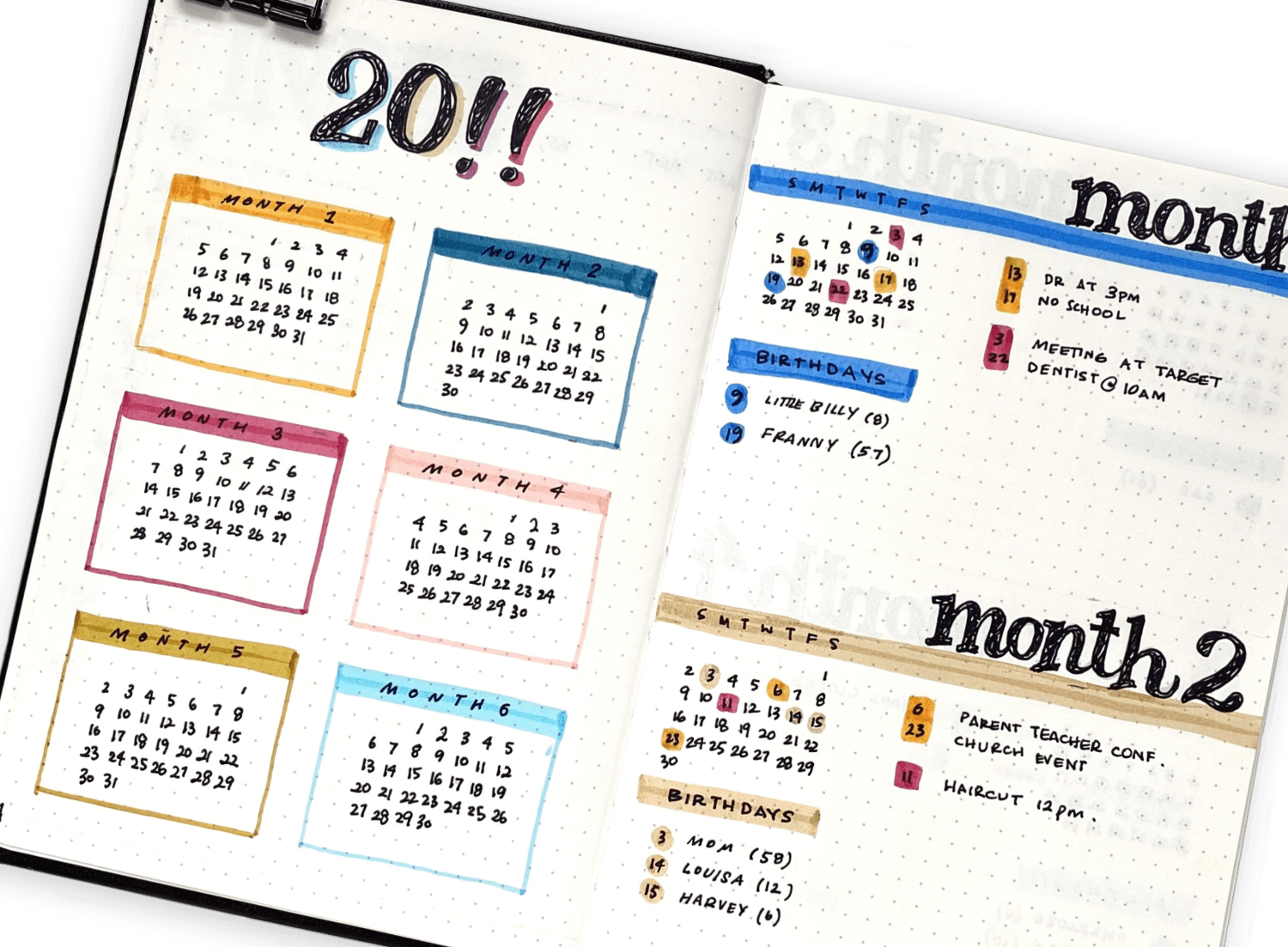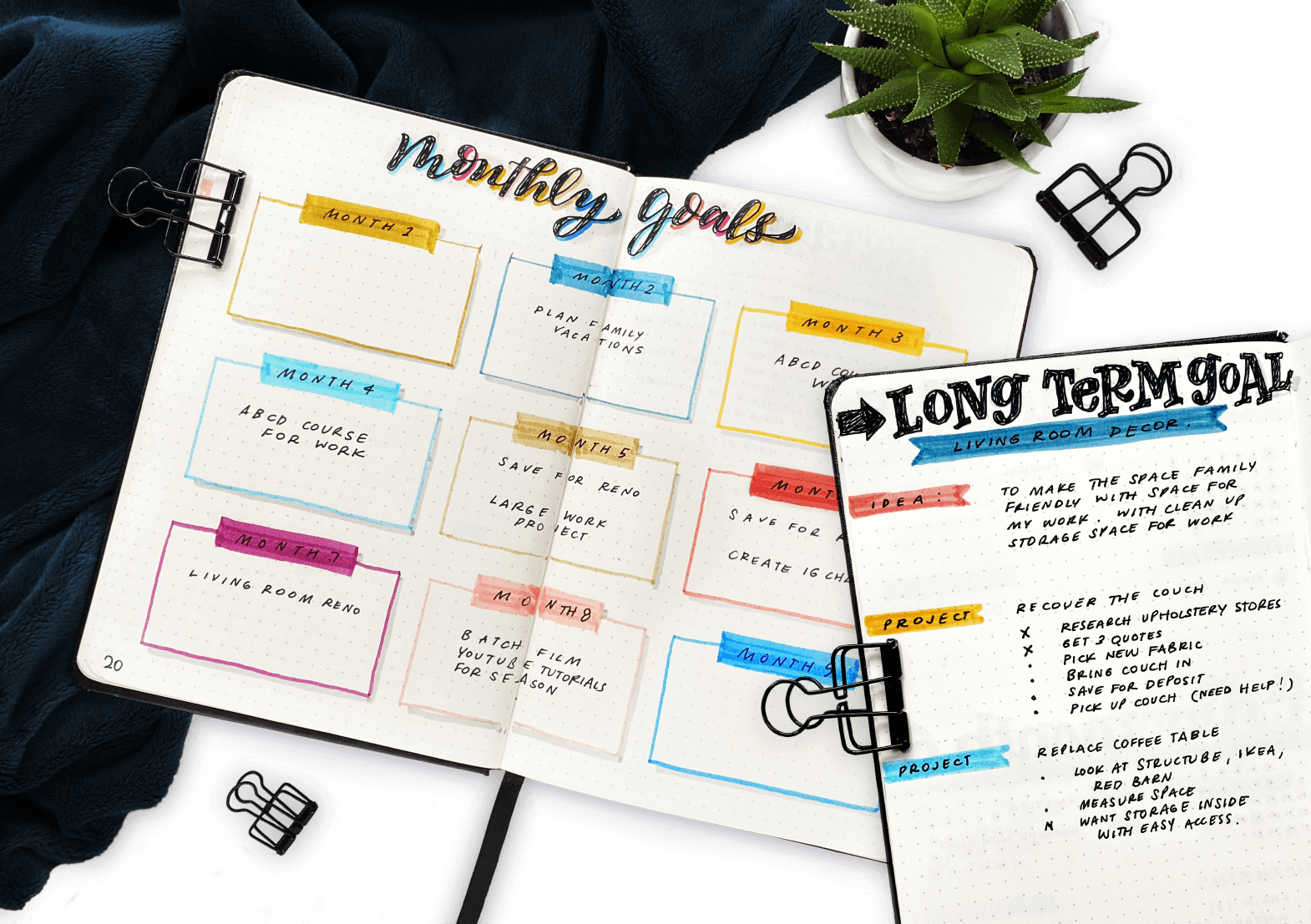 They say that if you want to get something done, you should write it down. Breaking your goals and projects into manageable chunks and then spreading those throughout the year will help you make all those dreams come true.
ROTATING MEAL PLANNING AND TIME-SAVING GROCERY LISTS
Time saving at its best! Create a rotating meal plan that works seamlessly for you and your family. Save time each week by having pre-made grocery lists for each meal. No more referencing your cookbooks and websites to pull all of this info together each week. Now it's one and done.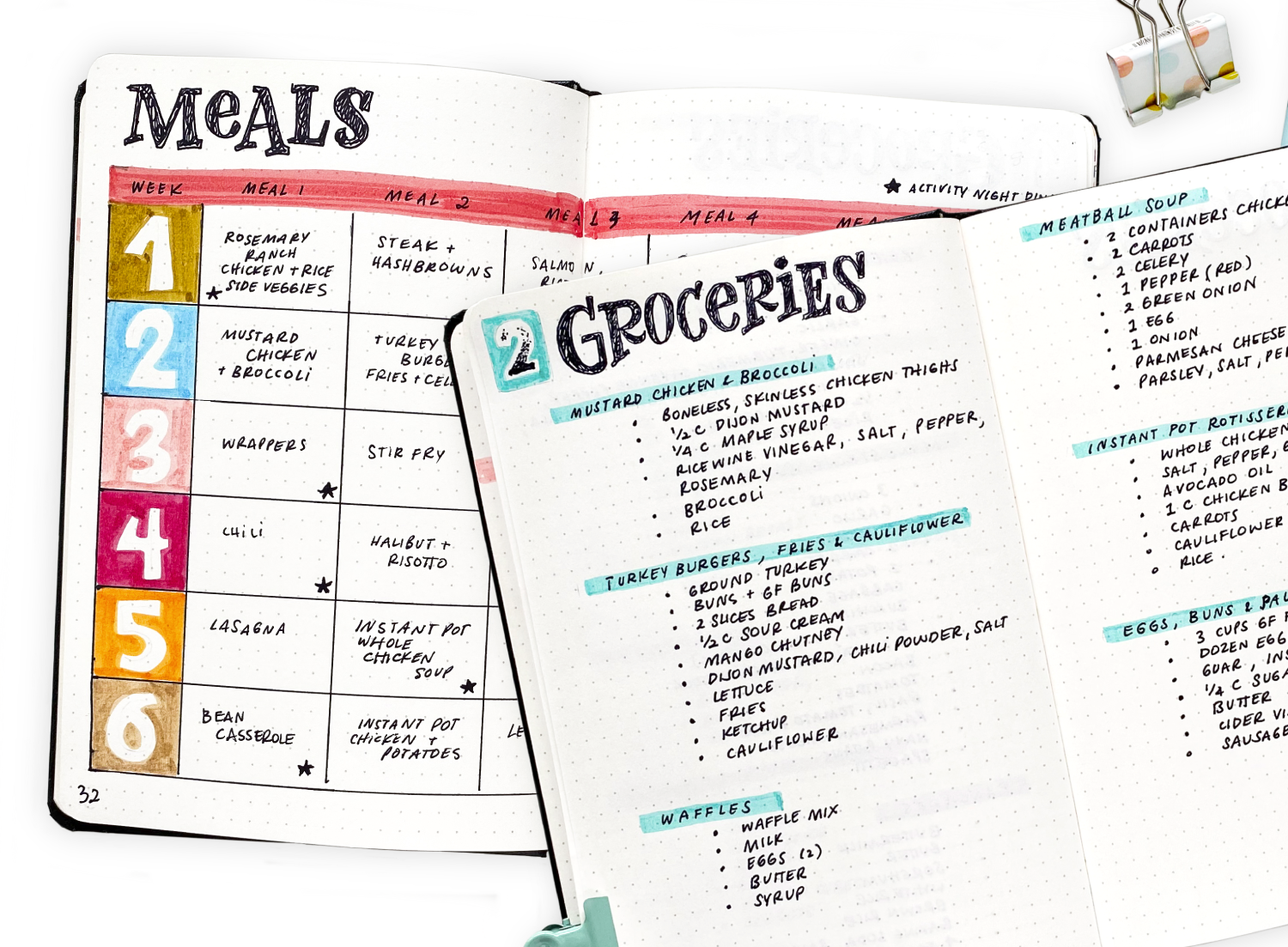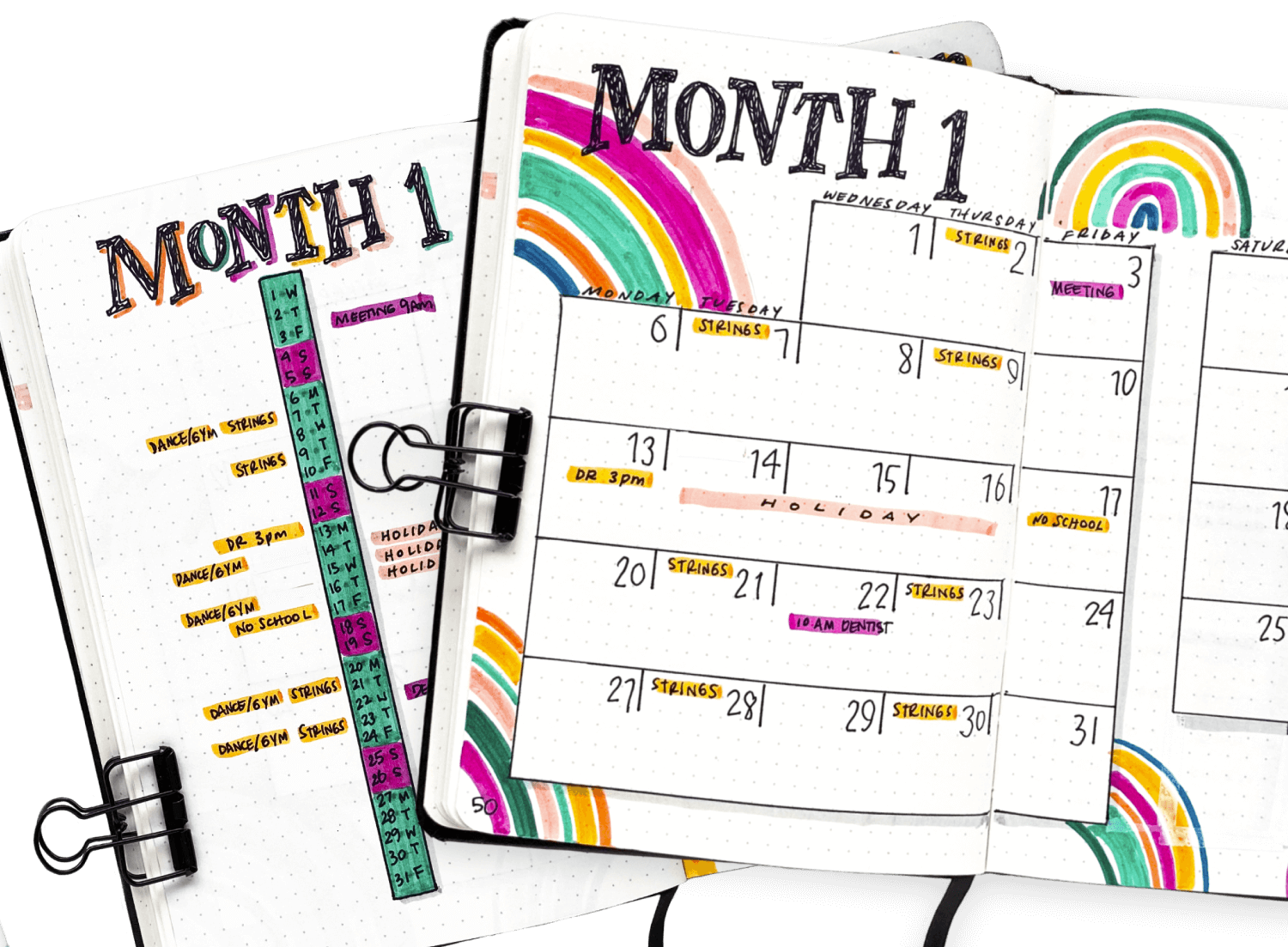 The big picture of your month helps you keep everything on track. Get a bird's eye view with your choice of a fun, artistic traditional calendar or a quick, easy and eye-catching linear calendar. From here your month begins!
MOTIVATIONAL HABIT TRACKING AND GOAL SETTING
Create motivational habit pages that don't discourage and measurable goal pages that celebrate your achievements. Strategic layouts will help you quickly and easily track your progress in a non-judgemental way.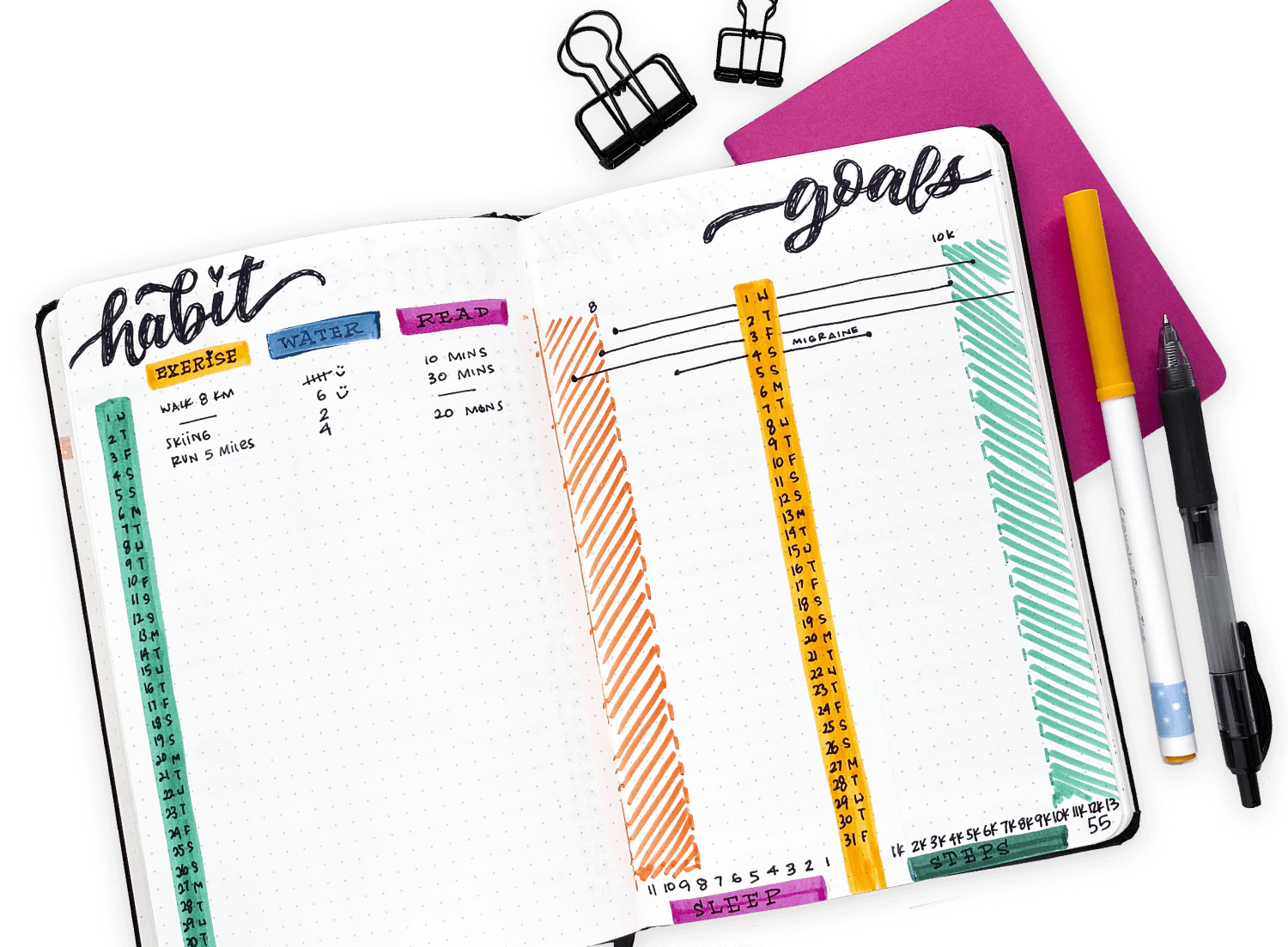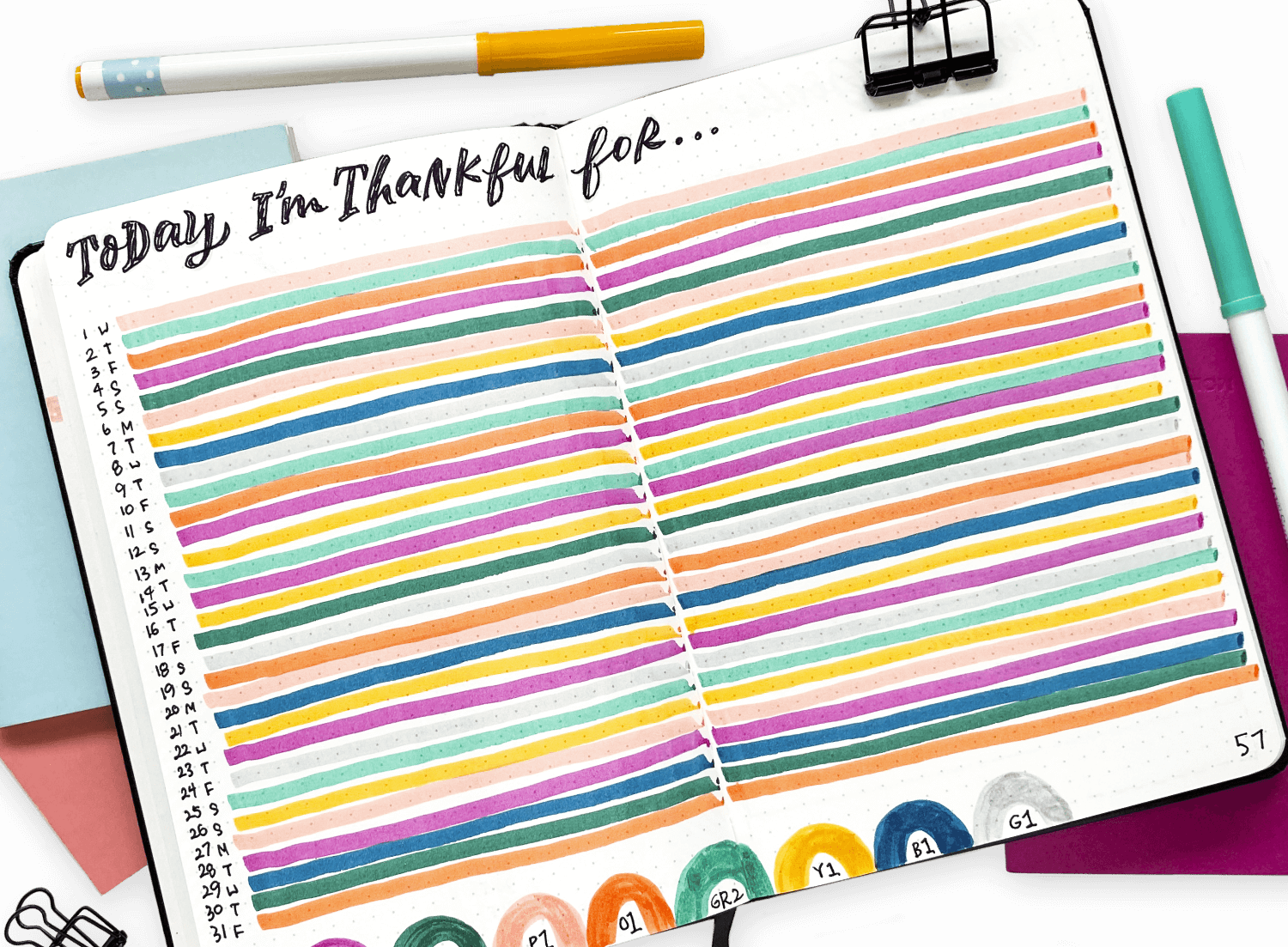 Beautiful pages don't need perfection! Fill a page with color and let yourself reflect on the best parts of each day. With only one line a day, you'll compile a month's worth of wonderful moments.
MULTIPLE WEEKLY ORGANIZATIONAL SPREADS
With four completely different and gorgeous weekly layouts, you will be able to set up your weekly plans in the way that works best for you. Each spread is made of fully interchangeable parts for you to mix and match.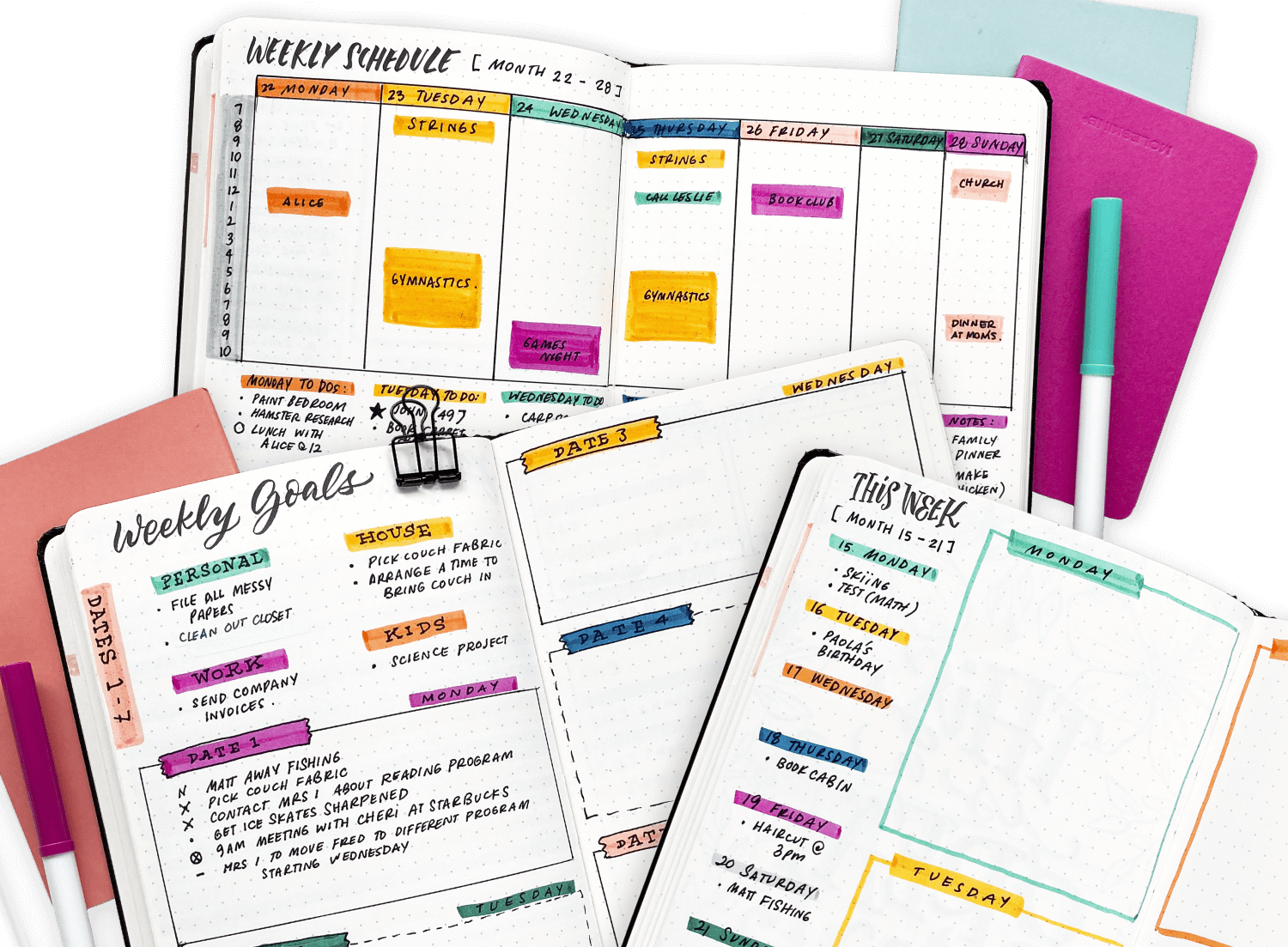 Other Projects Include a Content Plan, Index and Guide
Frequently Asked Questions
DO I HAVE TO BUY ALL NEW SUPPLIES FOR THIS?
Not at all! You will need a dot grid journal but other than that, you probably have all of the tools that you will need already on-hand. For instance, in this course, we use Crayola Super Tip pens for all the bullet journal pages that we create... nothing fancy needed!
HOW MUCH WILL THIS COURSE COST?
Bullet Journal Bootcamp costs 149 USD but qualifies for the 35% Black Friday Sale which brings it down to 96 and change!
What is the course schedule? How long do I have to complete the course?
Since Bullet Journal Bootcamp is made up of online video lessons and an accompanying worksheet package, you can go at your own pace. It can be completed on your own time when it is convenient for you. It is a self-paced course and your access never expires. You can work through the course when, where and as many times as you'd like! The only part of this course that is limited time is sale pricing, so make sure to grab it before your opportunity is gone!
DO I ALREADY HAVE TO KNOW HOW TO LETTER BEFORE I TAKE THIS COURSE?
Not at all! In the worksheet package you will have a whole selection of frequently used words written in different styles and you can copy them as you wish. You don't even have to have nice handwriting or printing to use a Bullet Journal. You just have to have a desire to be more organized, feel less frazzled and enjoy the process of using your hands. Easy!
(That being said, if you're looking for a beginner level hand lettering course to start your journey with, you can find the Let's Start Lettering online course right here. It's also 35% off during the Black Friday Sale!)
WHAT IF I DON'T KNOW IF THIS COURSE IS RIGHT FOR ME?
No worries! You should never get anything without being completely sure of it first! Please don't hesitate to send me your questions at amanda@amandaarneill.com. I would love to hear from you and be able to help you out.
I letter on my iPad only - can I still take this course?
Since we are creating in an actual dot grid notebook, you will be using your pens instead. Since this course doesn't need any fancy lettering, you won't need to worry about using your iPad versus paper and pen.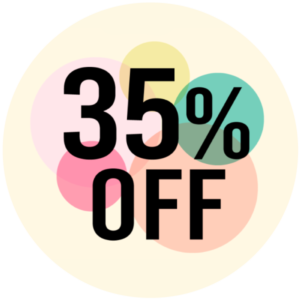 149 Regular Price
96.85 Sale Price