iPad Watercolor Wonders
- Intermediate Online Course with Karin Newport and Amanda Arneill -

Watch a sneak peek!
Want to see a sneak peek? Here are some of the projects you'll create and an example of the techniques that you'll learn in iPad Watercolor Wonders. Karin and I had so much fun creating this course for you and we can't wait for you to join us!
CREATE STUNNING WATERCOLOR PIECES THAT NO ONE WILL EVER BELIEVE YOU CREATED ON YOUR iPAD

GET ALL OF THE WATERCOLOR PAYOFF AND NONE OF THE WATERCOLOR MESS WITH iPAD WATERCOLOR WONDERS!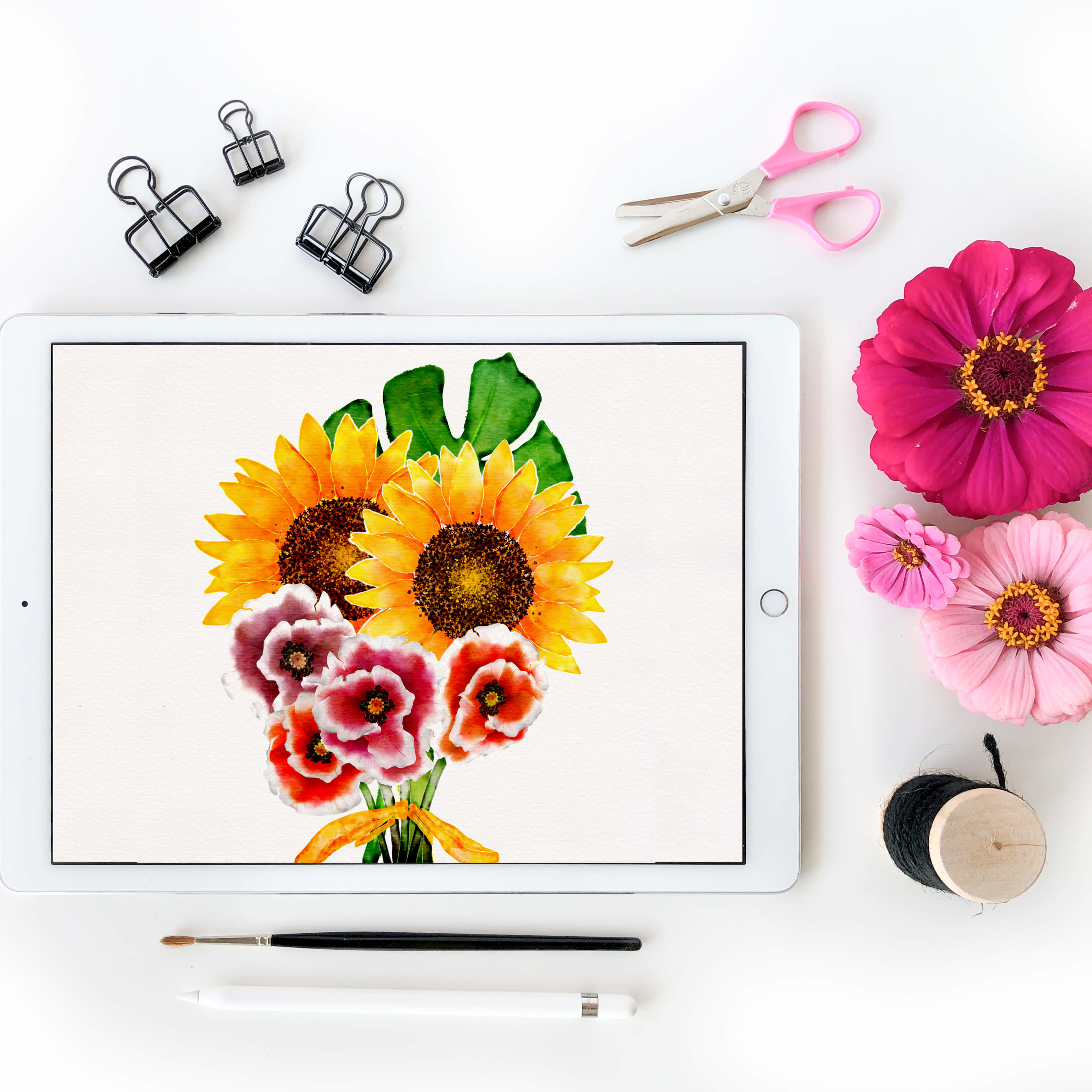 The amazing Karin Newport (@ipadlettering) is back again to teach us her iPad ways! With iPad Watercolor Wonders, learn how to create realistic watercolor lettering and art all on your iPad with your Apple Pencil.
Karin has done all the experimenting to save you the time and hassle! Learn how to achieve the perfect, textured watercolor paper using your iPad and how to get the realistic flow and color effects just like you would with real watercolors.
Go step-by-step with Karin and Amanda as you learn to create a plethora of art and lettering watercolor projects on your iPad and how to print your creations to achieve optimal results. Get all the watercolor reward without any of the mess!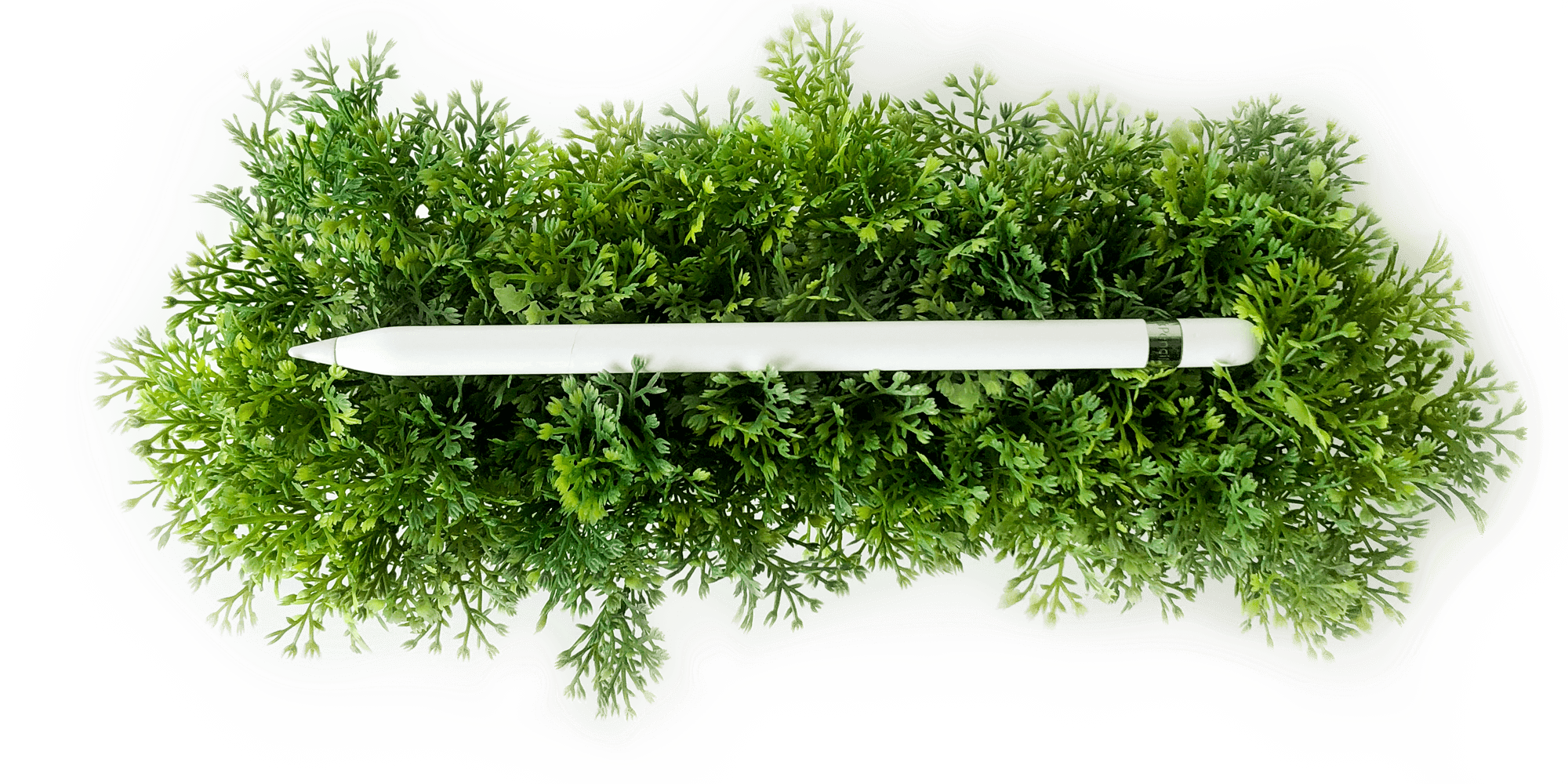 Prepare to be amazed as you transform your iPad and Apple Pencil into a watercolor canvas and wide array of watercolor shades and paintbrushes. With hours of instructional video, a comprehensive worksheet package and Procreate (paint) brushes, it won't take you long to feel like the Vincent Van Gogh of the iPad Pro!
Are you busy? No problem! You can work through the course at your own pace in your own time. Your access to the course never expires and you can watch the videos whenever, where ever and as many times as you'd like! No schedule, no pressure!
iPad Watercolor Wonders is an intermediate level course, so it is absolutely crucial that you are fully comfortable and proficient with Procreate on the iPad before tackling this course. The recommended prerequisite course to prepare yourself for iPad Watercolor Wonders is iPad Bootcamp. To learn more about iPad Bootcamp, click HERE!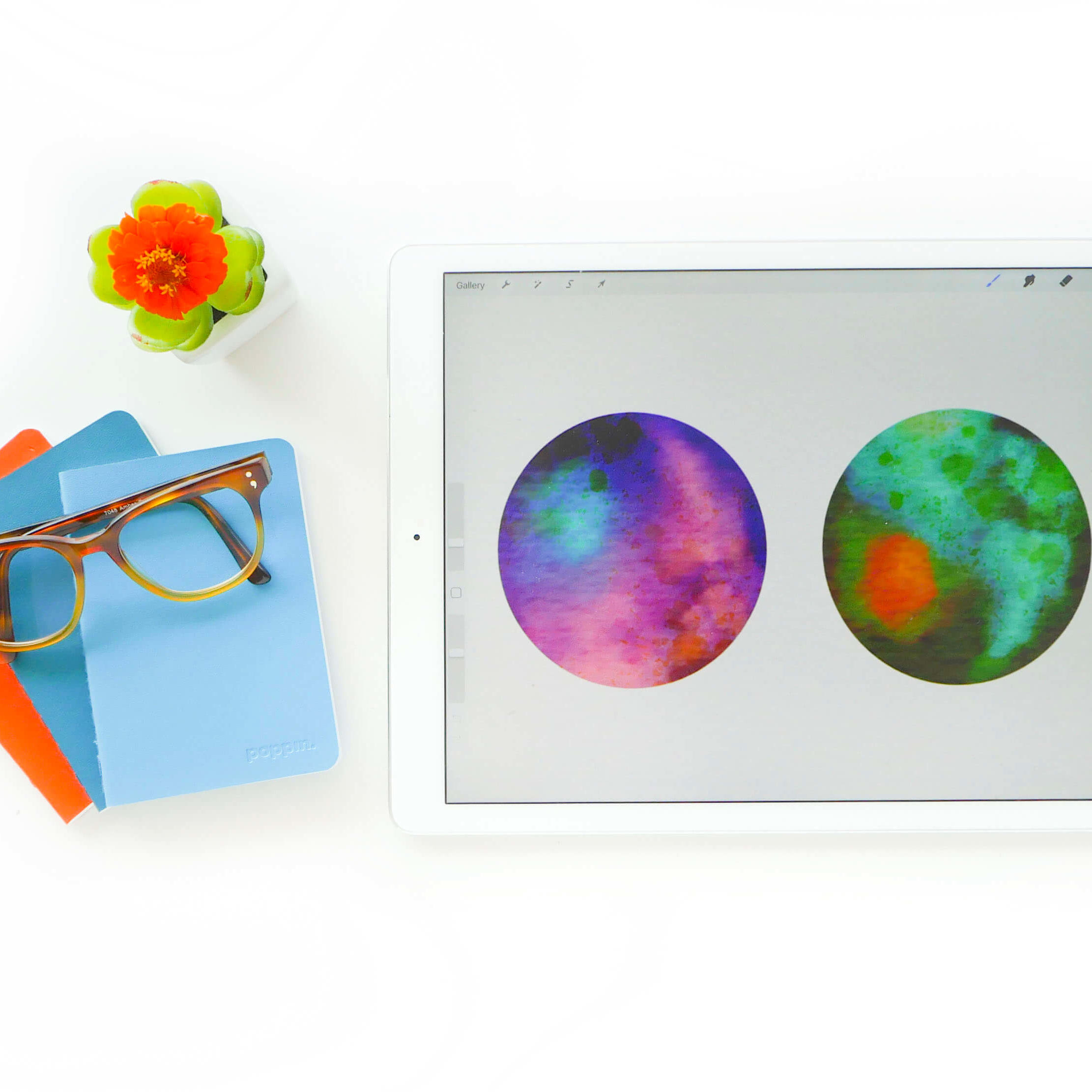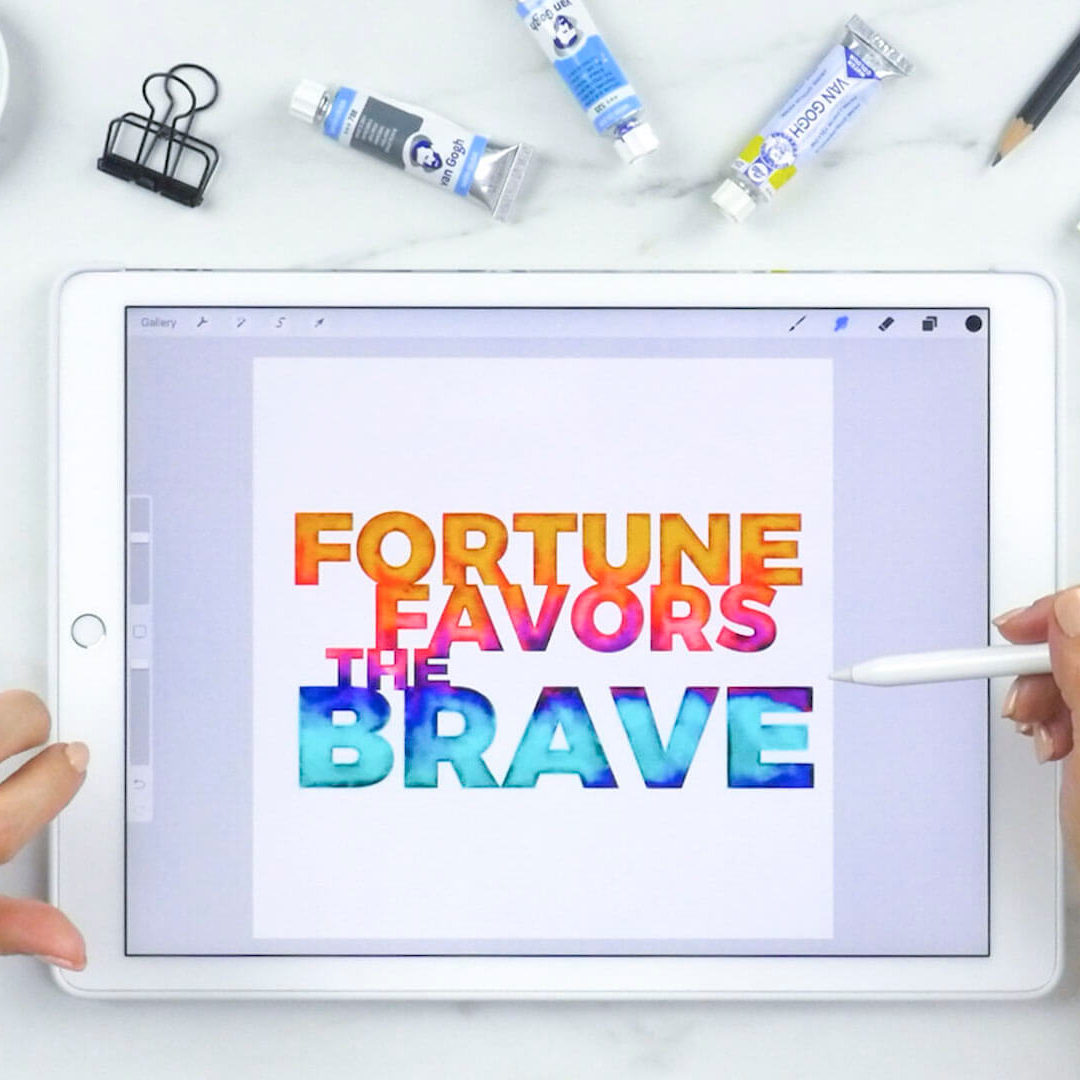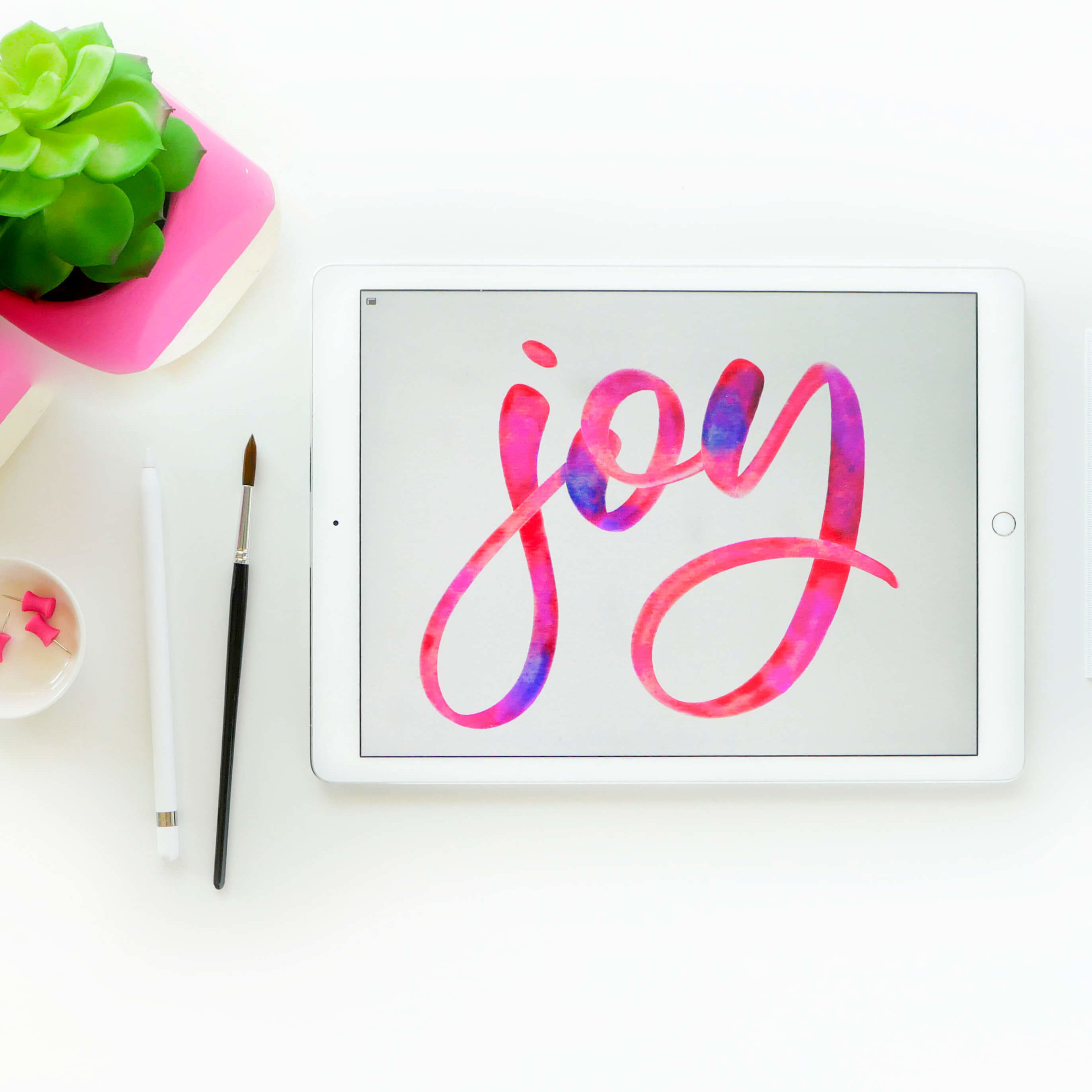 iPad Watercolor Basics
It starts with recreating the unique texture of a watercolor canvas to use as a template for your watercolor creations. Next, explore the array of Procreate brushes that you get with the course and learn how to create realistic watercolor flows and translate traditional watercolor techniques to your iPad.
Linked Lettering Pieces
Next, it's time to create a link lettering piece to allow your watercolors to flow through a single quote. You will learn everything from choosing and downloading your font, to creating stunning watercolor effects within your letters - your watercolor lettering piece will really pop with a seamless blend of watercolors!
Watercolor Lettering Pieces
Put your iPad watercolor basics to the test as you create colorful, hand lettered watercolor pieces embellished with splatters (without any of the worry that the splatters will move past the boundaries of your iPad screen!).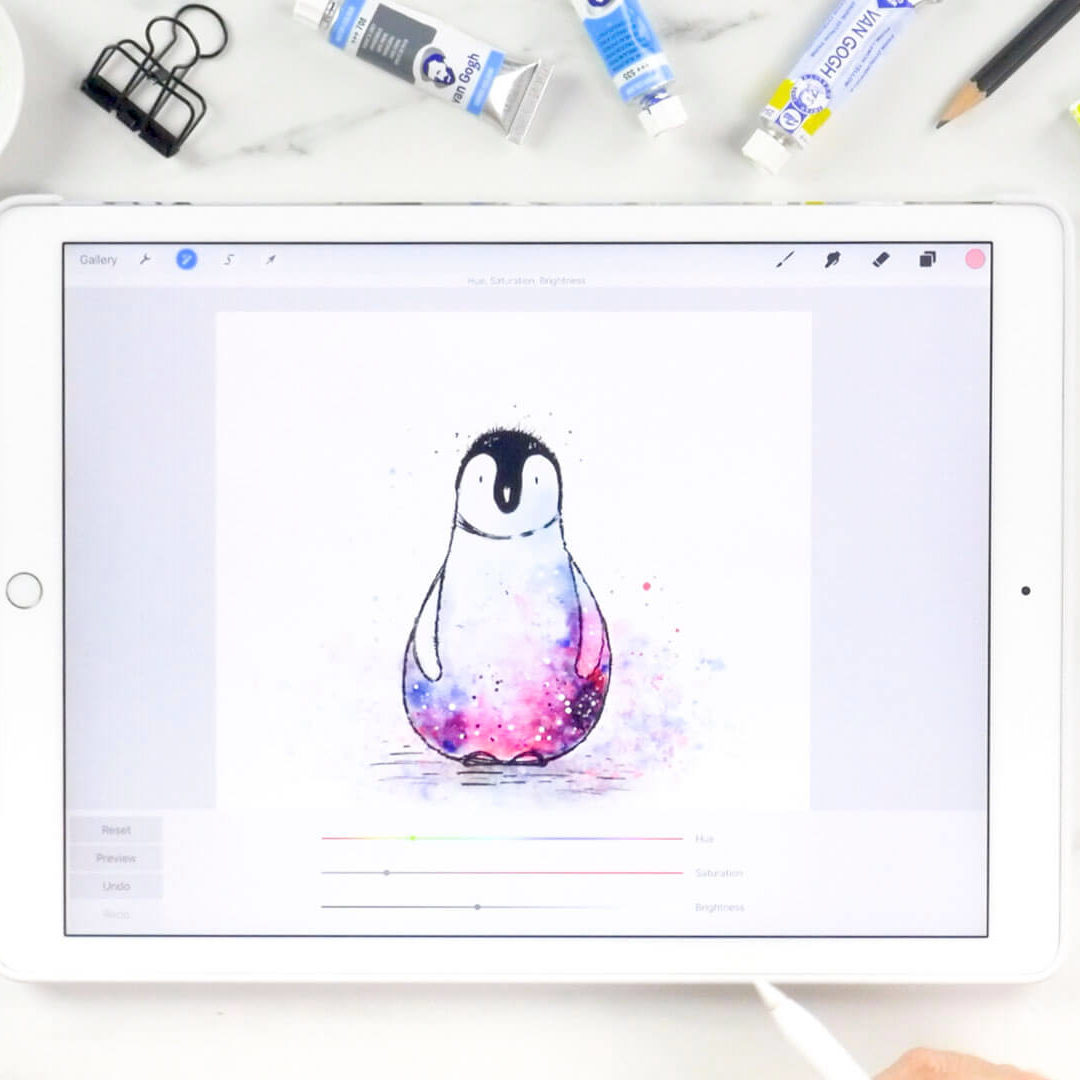 Watercolor Projects
Karin will walk you step-by-step through various watercolor creations like a cute little penguin and a floral bouquet. You'll be able to use these steps to recreate these projects and apply the same techniques to create your own!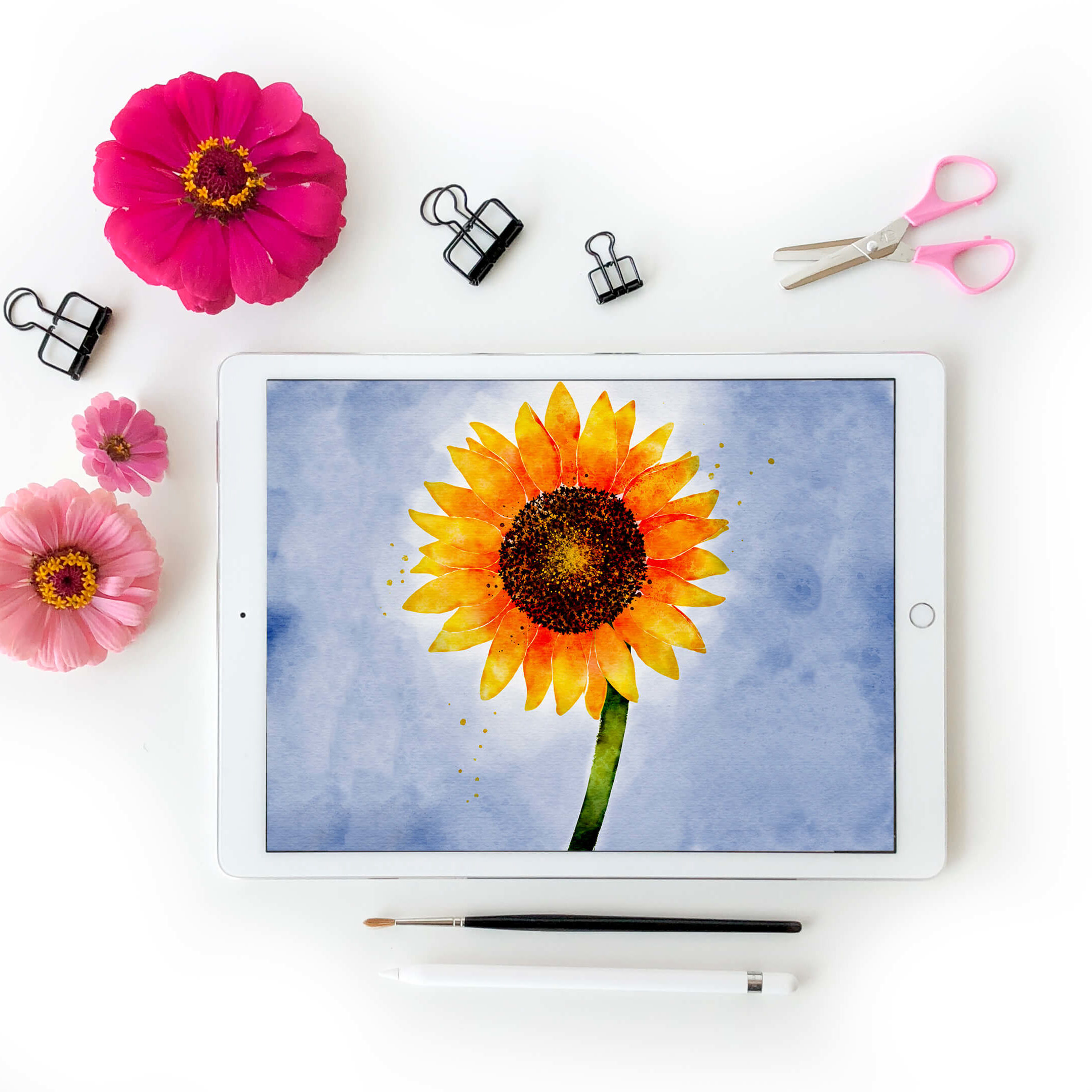 iPad Watercolor Florals
Master the art of iPad watercolor florals! Learn how to create and tweak your own floral procreate brushes from scratch and use your personalized brush to create a stunning field of flowers and learn how to create full blooms and bouquets.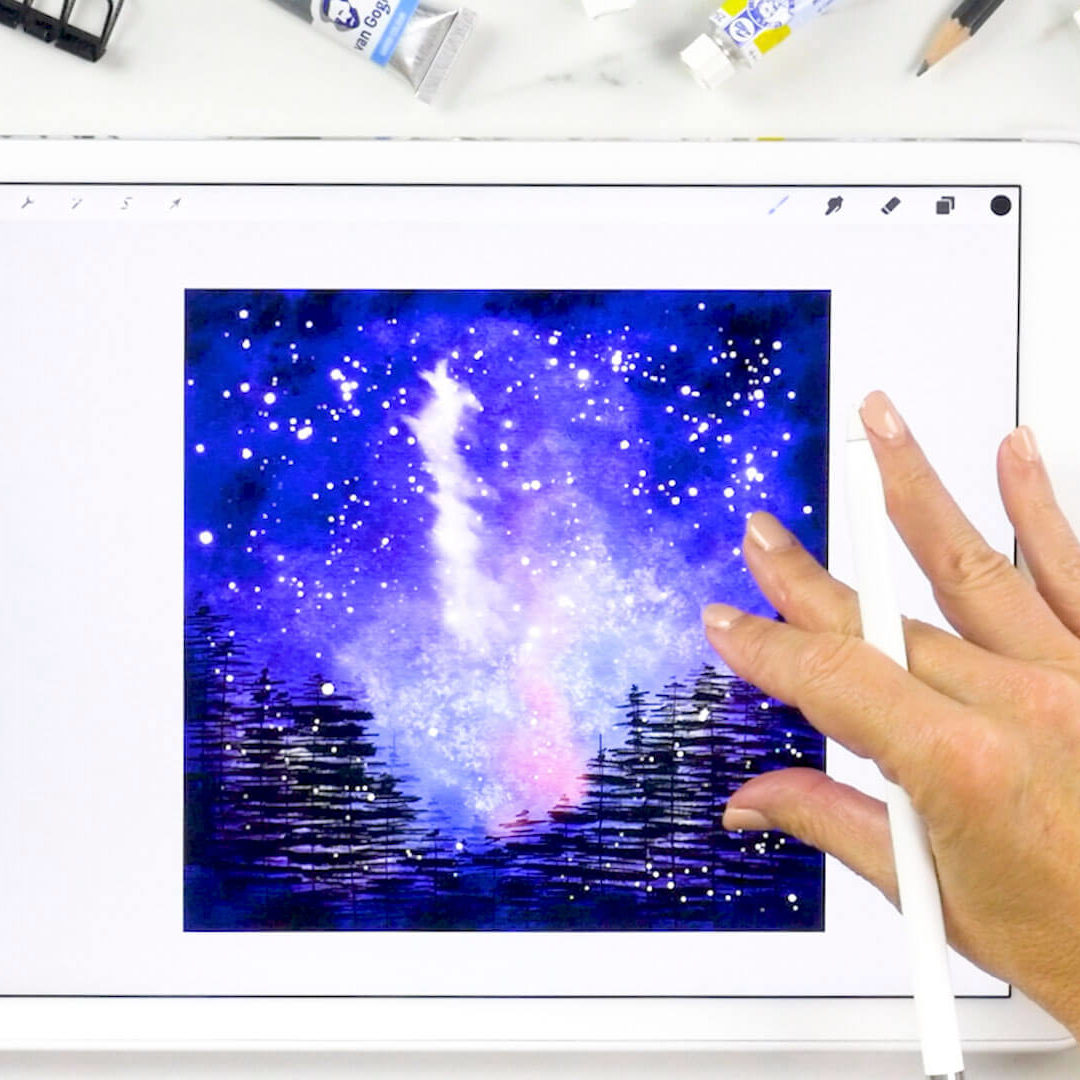 Watercolor Landscapes
Karin shares all of her top secret tips to create the most stunning nighttime galaxy landscapes and wintery wonderlands (including a customized snowflake Procreate brush from scratch!).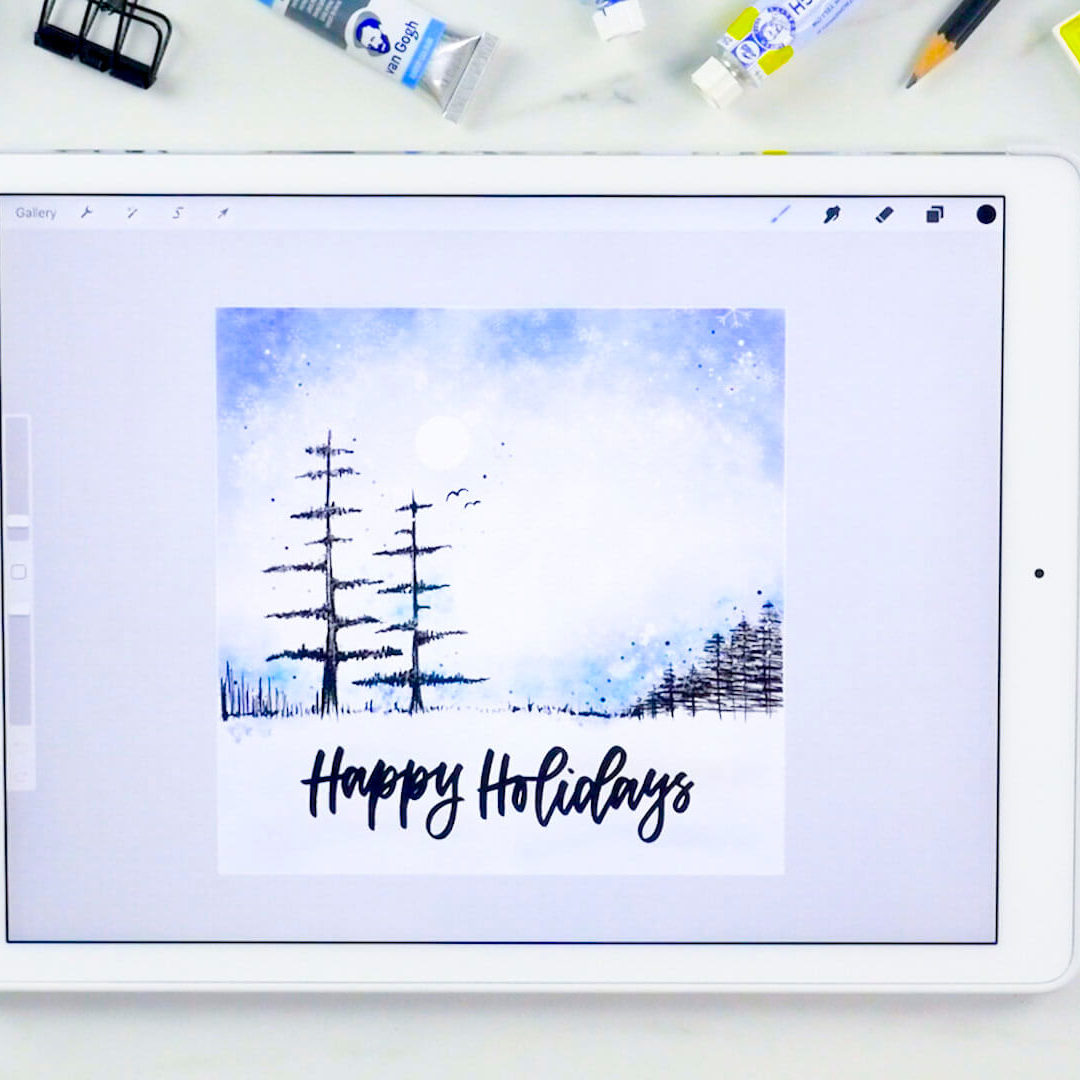 Turn your pieces into Greeting Cards
Now that your ability to create stunning watercolor masterpieces on your iPad is pretty much limitless - it's time to turn your creations into impressive, customized greeting cards so that you can show off your new found skills to your friends and family. Because it's not fair to keep your talent all to yourself!

WHAT DO YOU NEED?
For iPad Watercolor Wonders, you will need the following supplies:
An iPad that is Apple Pencil compatible

An Apple Pencil

Procreate (and access to Apple's App Store to download other apps that will be suggested throughout the course)
The following supplies are not mandatory but are suggested:
a device to watch the course lessons (that is separate from the iPad that you will be using for the course - it helps to practice while you learn!)

access to a printer to print the worksheets

watercolor paint and paintbrushes to create your own custom Procreate brush stamps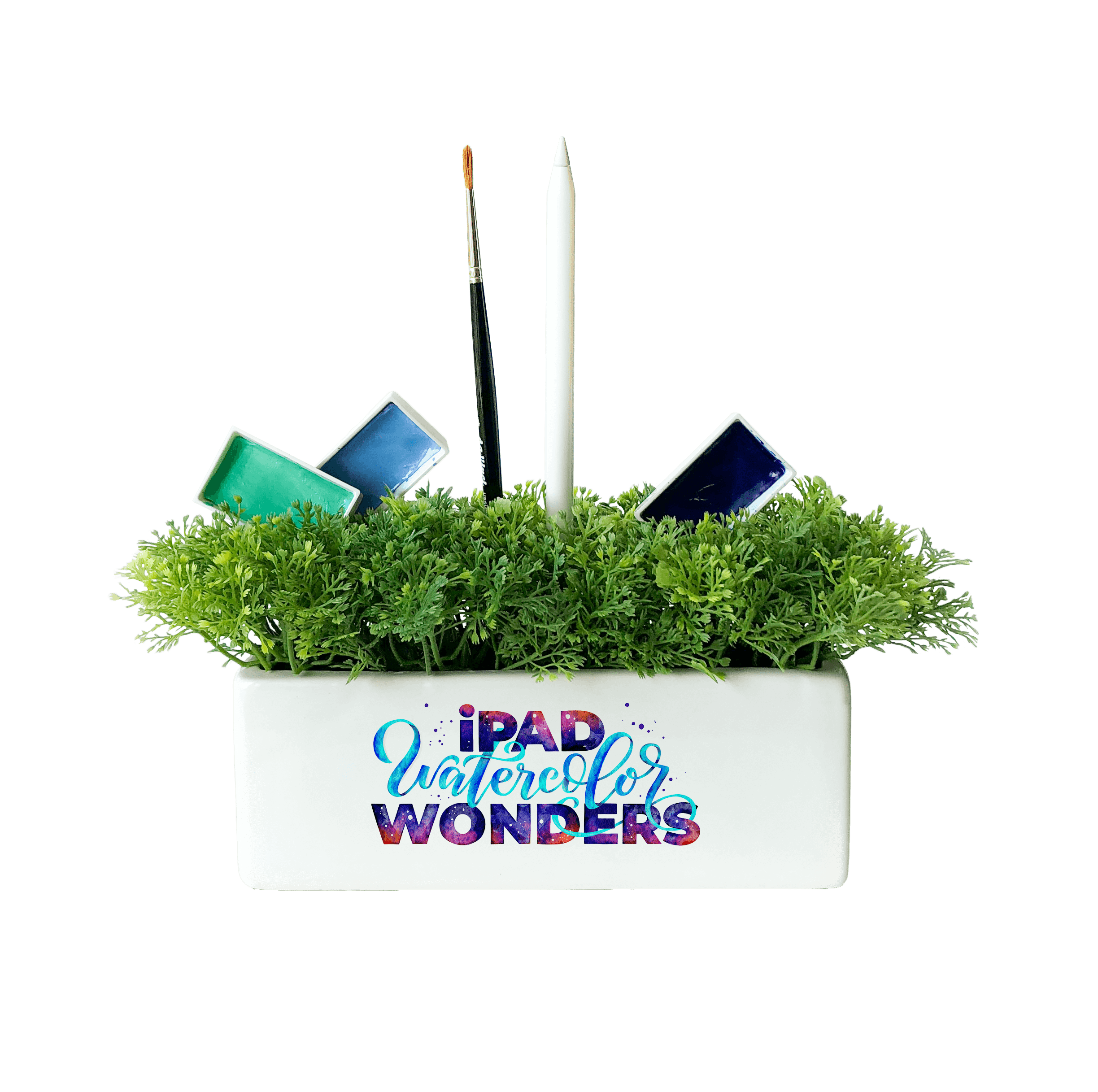 Frequently Asked Questions
How much does this course cost?
You can register in iPad Watercolor Wonders for $149 (USD). If you want to register in both iPad Bootcamp and iPad Watercolor Wonders you can sign up for the course combo for $267 (USD) here.
Will there be a Facebook group for Students enrolled in this course?
Yes! Students enrolled in iPad Watercolor Wonders have access to the private iPad Watercolor Wonders Facebook group where you can interact with other students in the course, Karin and myself.
What level of experience do I need to have to enroll in this course?
This course is an intermediate level course and is suitable for students who are fully comfortable and proficient with Procreate on the iPad. iPad Bootcamp is the suggested prerequisite course for iPad Watercolor Wonders. You can find out more about iPad Bootcamp here.
What is the course schedule? How long do I have to complete the course?
iPad Watercolor Wonders is comprised of online video lessons and other downloadable course content. The course can be watched on your own time when it is convenient for you. It is a self-paced course and your access never expires. You can work through the course when, where and as many times as you'd like!
Do I need an iPad and Apple Pencil to take this course? What about real watercolor supplies?
Yes, you will need both an Apple Pencil and an iPad that is Apple Pencil compatible in order to take iPad Watercolor Wonders.
It is suggested but not required that you have real watercolor supplies (and by "supplies" I mean a watercolor paint in one color, some watercolor paper and a couple watercolor brushes). You will learn how to make your own Procreate watercolor stamp brushes, and these supplies will allow you to do that (but some of these stamp brushes also come with your course purchase in case you don't want to make your own!).