Don't just letter, letter beautifully.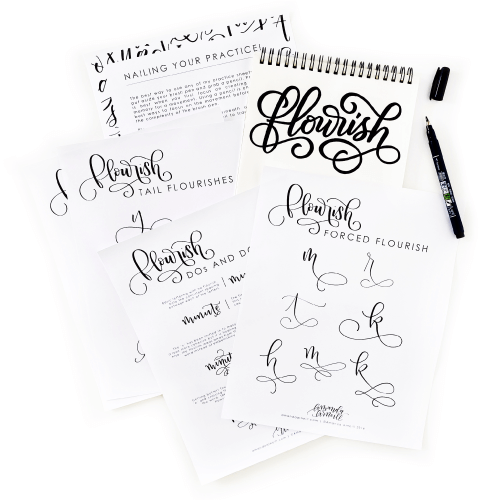 FREE FLOURISH FOUNDATIONS
---
Stop being intimidated by flourishing. Get the free video lessons and worksheets so that you can flourish everything!
---
Don't waste a single penny buying supplies that aren't the perfect fit for you. This guide will help you choose your supplies with confidence every time.
---
With over a dozen courses to choose from, from beginner to intermediate to advanced, there's the perfect one here for you.

The work I do now (after your class) is something that I actually want people to see, to frame and hang up or gift to someone!
I'm much more confident than I was before!
- Crystal
I'm so happy that I invested in myself by taking Let's Start Lettering. I'm saving up my money to sign up for some of the advance classes you have coming up.
Thank you for the amazing class Amanda!
- Monica
I can't thank you enough for your love for lettering and your willingness to share all of your lettering knowledge! Your classes are so awesome!!
I will definitely be signing up for more, if not all!!
- Leilani
As an artist I LOVE how you made lettering feel like a true art to me. I feel so much more confident in my abilities. My pieces flow and fit together so much better than before. And now I know so many new fonts and ways to make my work standout.
- Heather
I signed up for your beginner course the minute you launched it way back when. Because of you, I jumped head on into calligraphy. Since march of this year I gained 11k followers!! Holy cow right?
- Lindsey

Learn brush lettering through Let's Start Lettering to establish a strong foundation in both printed and script brush lettering! From first strokes through to letters and words and all the way to basic composition of phrases, use the course videos and handouts to master all of your brush lettering skills.
Level up your Procreate skills with an in-depth course that dives deep into all of the amazing things that Procreate 5 offers. Learn to create your own Procreate brushes and make animations to make people stop and stare. 

Paint the stunning flowers and foliage that you've always dreamed of creating. With detailed step-by-step videos and a 99 page workbook, your house will soon be exploding with brilliant painted blooms.