iPad Bootcamp
- Online Course with Karin Newport and Amanda Arneill -
LEARN HOW TO CREATE STUNNING ART AND UNLOCK THE FULL POTENTIAL OF YOUR IPAD AND APPLE PENCIL

IT'S TIME TO PUMP UP YOUR iPAD MUSCLES WITH iPad Bootcamp!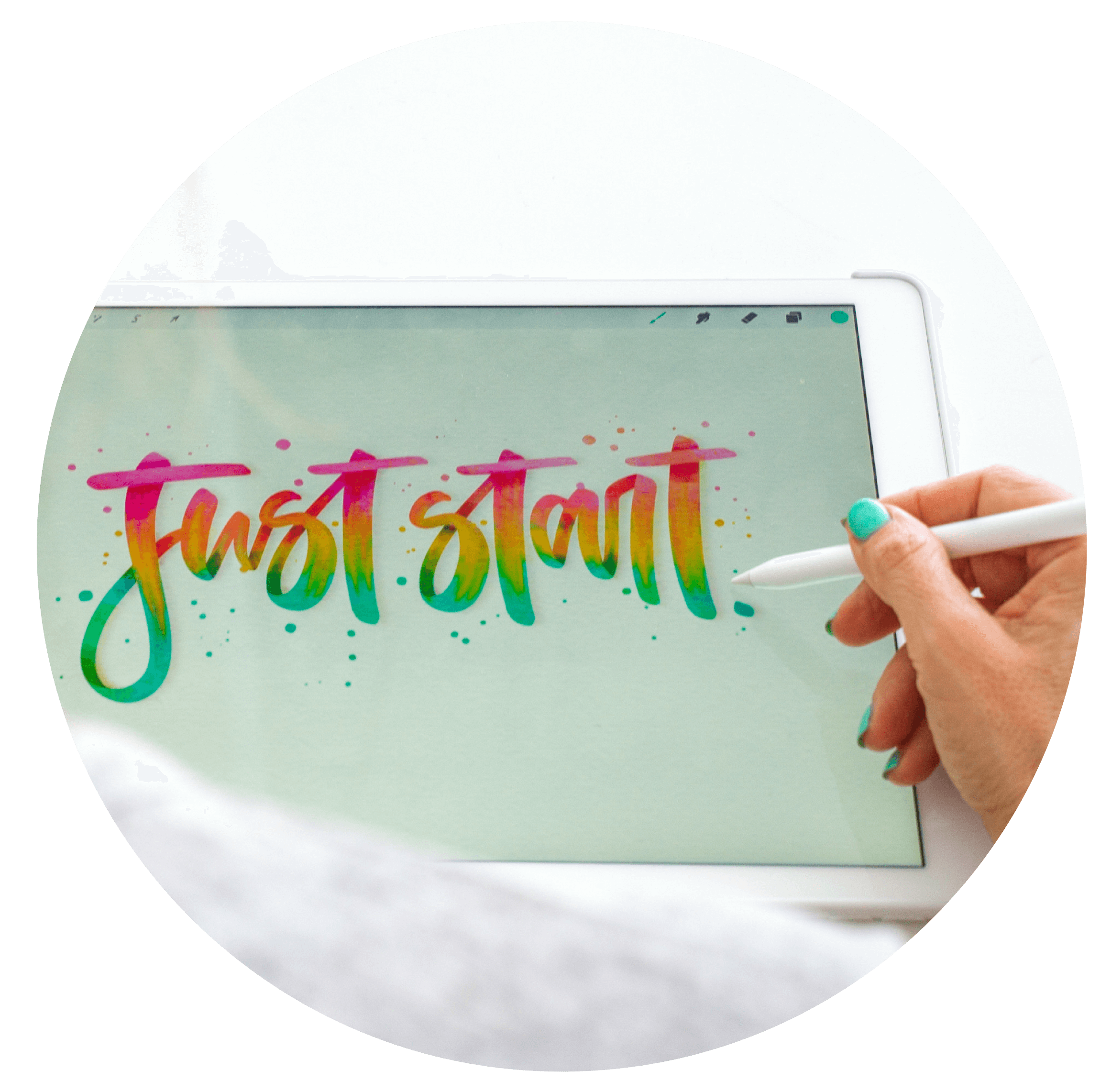 Do you have an iPad, Apple Pencil and Procreate but don't quite know where to start? Or you might have started with the basics when it comes to designing on your iPad, but you're not quite sure where to go from there?
Let Karin Newport of @ipadlettering and Amanda Arneill show you how to unlock the full artistic power of your iPad and Apple Pencil with iPad Bootcamp.
Karin condenses her years of iPad and Apple Pencil knowledge into over 7 hours of video lessons in this iPad Bootcamp online course. She's made the mistakes and wasted money on the useless apps so that you don't have to!
With this self-paced online course, Karin, "coder by day and artist by night" and Amanda, artist and teacher, share all their tips and tricks so that you can create gorgeous art and designs, that no one will believe you created simply with your iPad, Apple Pencil, and an app or two.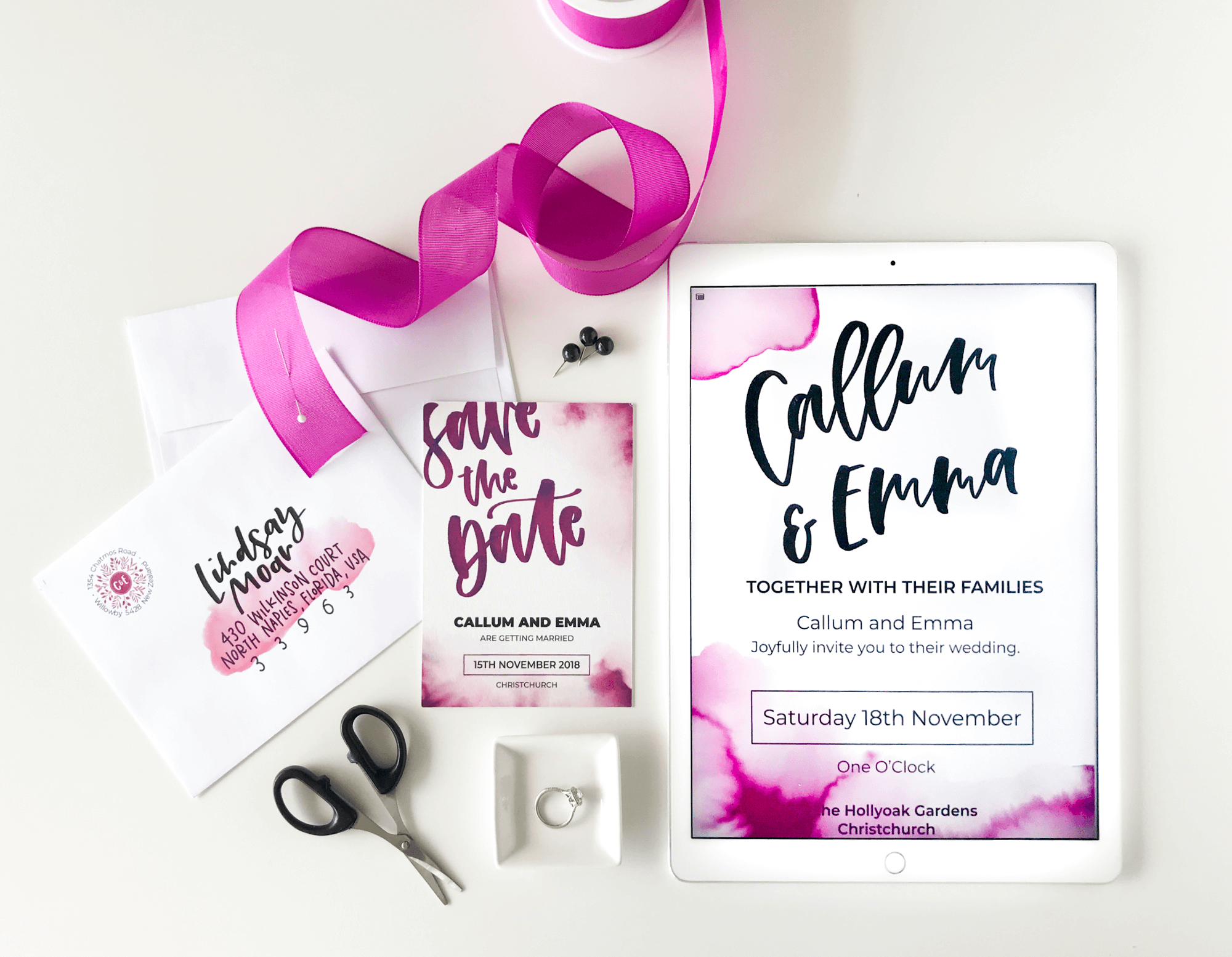 The iPad and Apple Pencil have amazing capabilities. With over 7 hours of instructional video, a comprehensive worksheet package, downloadable templates and Procreate brushes, you will be able to experience the true magic behind your iPad and Apple Pencil.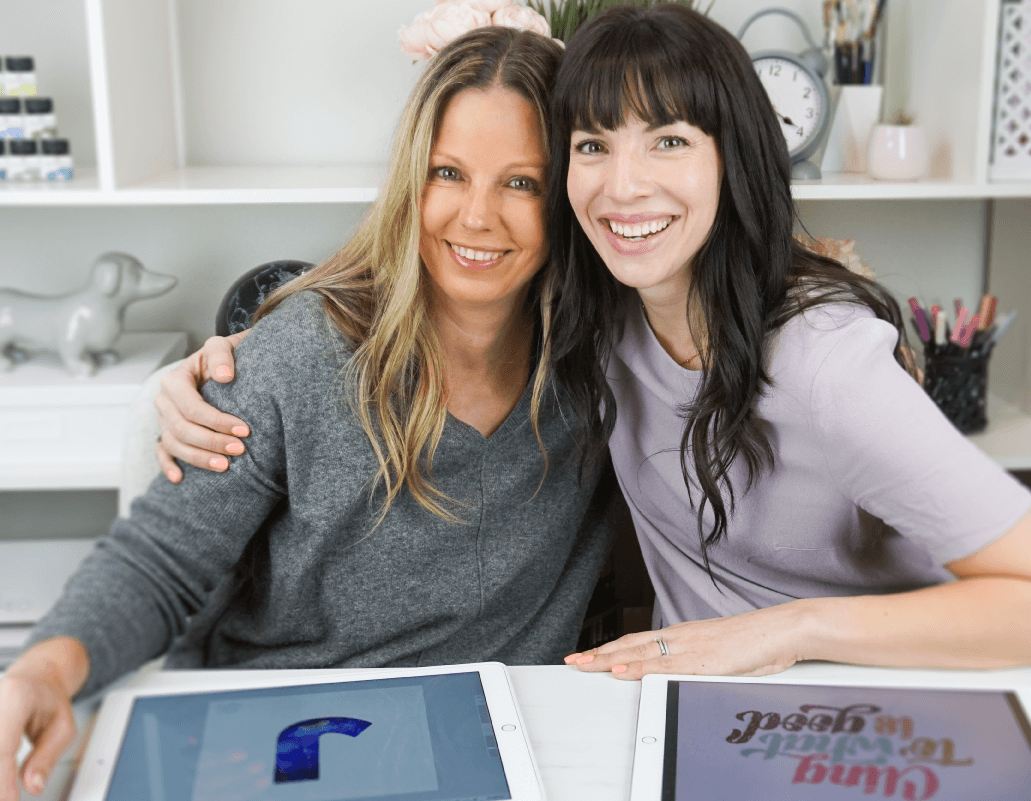 While you don't have to be an iPad expert to take this course, by the time you are done, you will definitely feel like one! Be prepared to impress your friends and family with your creations and to hear "I can't believe you created that on the iPad!"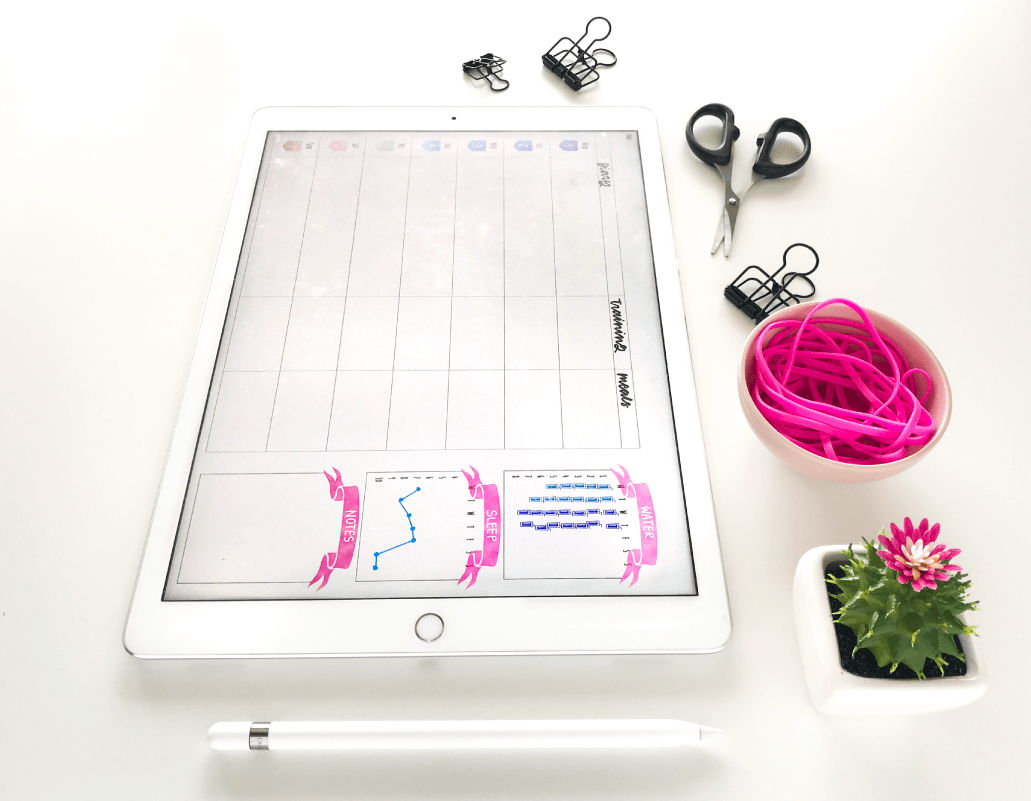 Are you busy? No problem! You can work through the course at your own pace in your own time. Your access to the course never expires and you can watch the videos whenever, where ever and as many times as you'd like!

WHAT WILL YOU LEARN?
If you own an iPad and Apple Pencil, and have a desire to create beautiful designs utilizing your iPad as an "all-in-one" design device, then this online course is for you! In iPad Bootcamp, you will learn everything from the basics - like the best apps and Procreate 101, to the practical - like using your iPad as a beautiful bullet journal, and to the advanced - like creating a full, custom wedding suite and how to get your stunning creations from your iPad screen and on to paper. After this course, the only limits to the creative possibilities available to you with your iPad will be the limits of your imagination!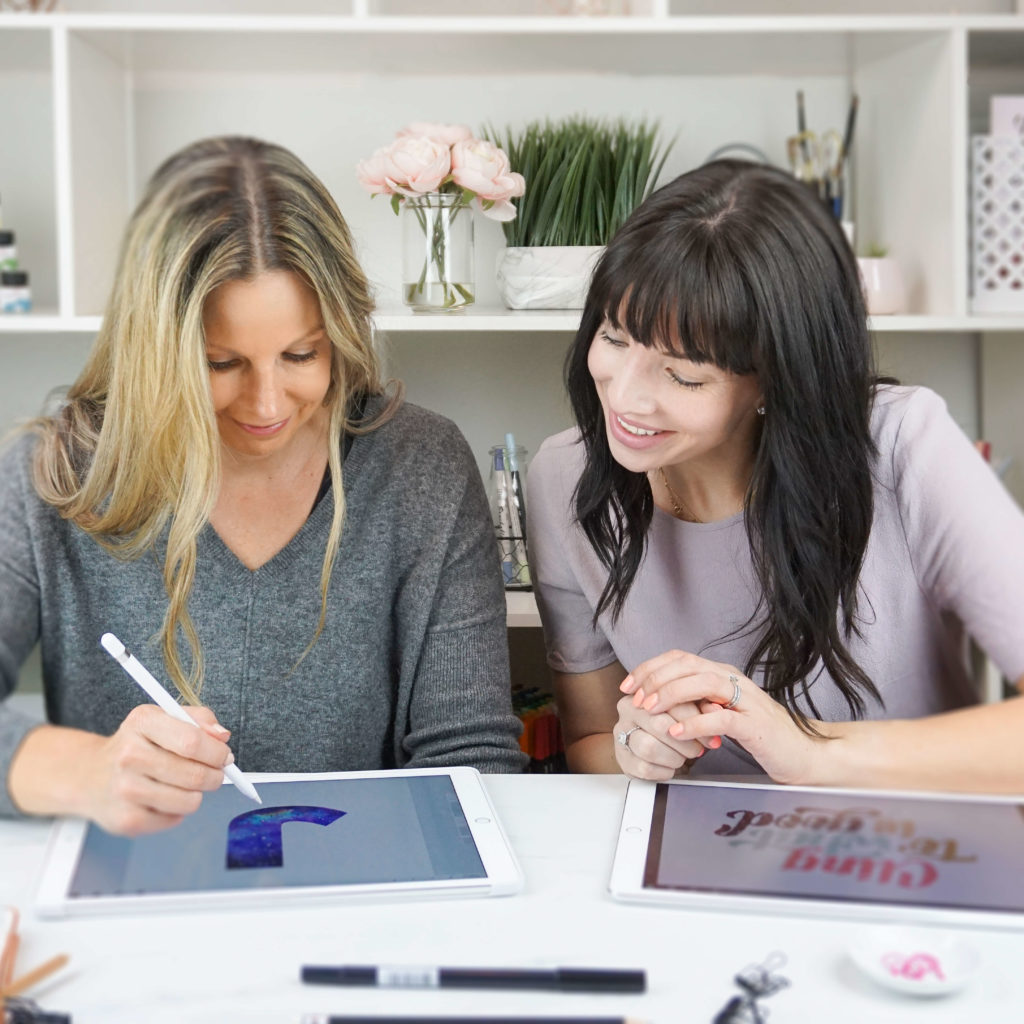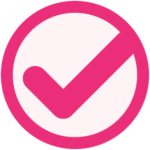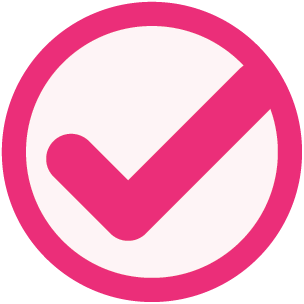 OVER 7 HOURS OF INSTRUCTIONAL VIDEOS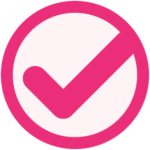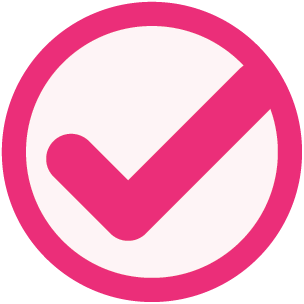 A comprehensive worksheet package to take you step-by-step through each lesson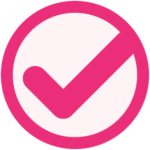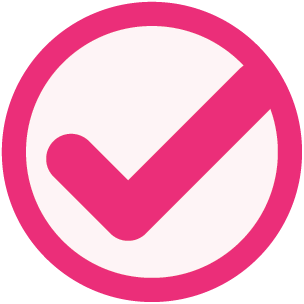 The Procreate brushes and font that are featured in iPad Bootcamp as downloadable files (including a brush set and 3 brushes that are exclusive to iPad Bootcamp!)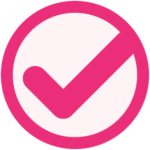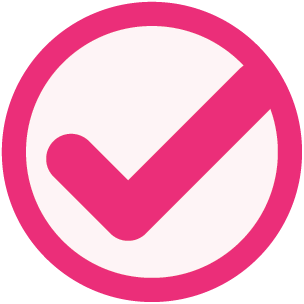 Downloadable course templates, color palettes and stock photos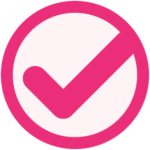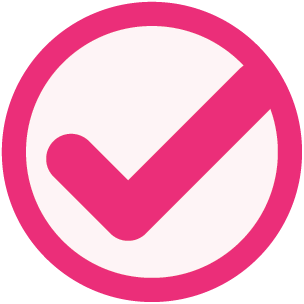 Access to the iPad Bootcamp private Facebook group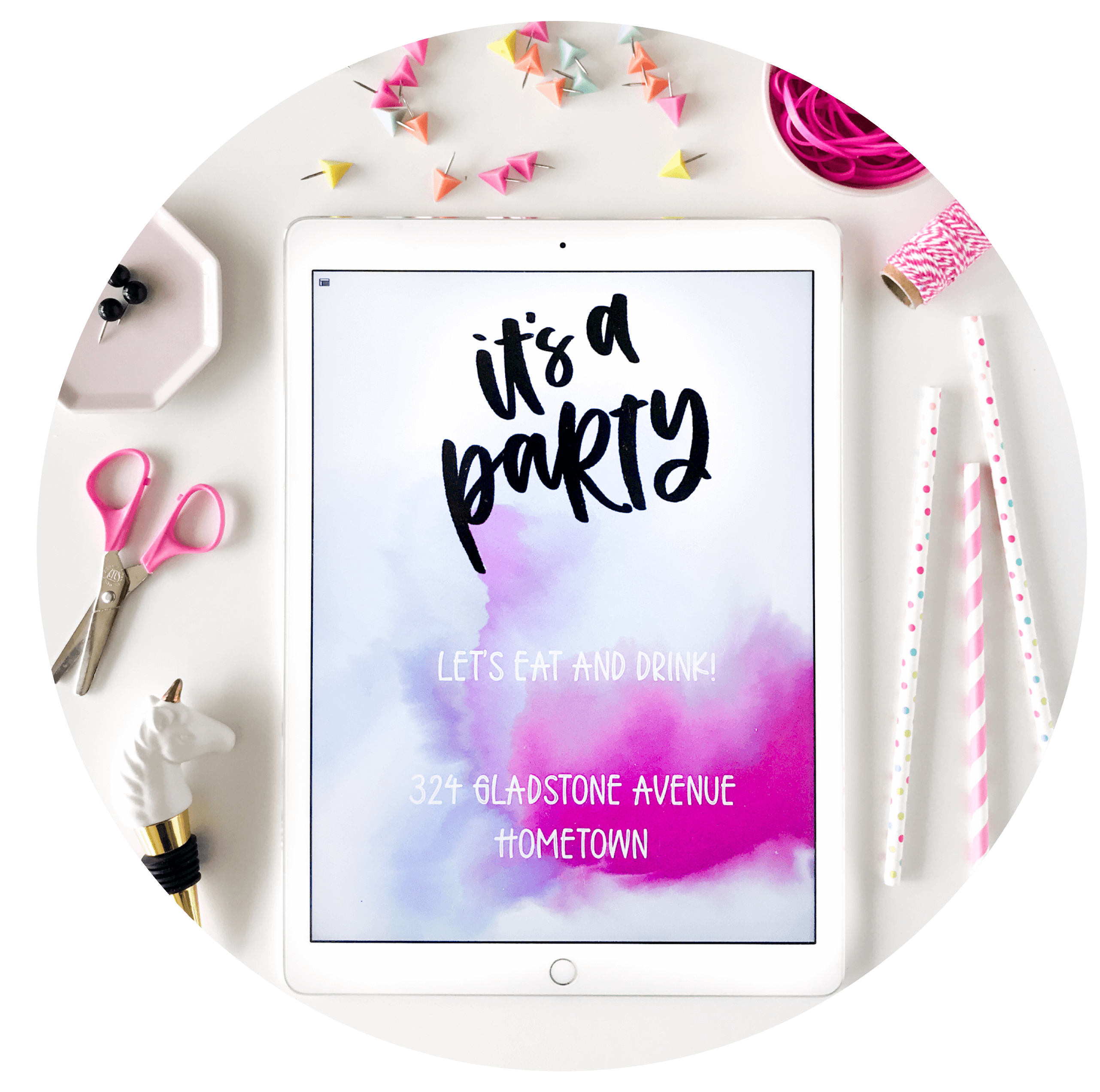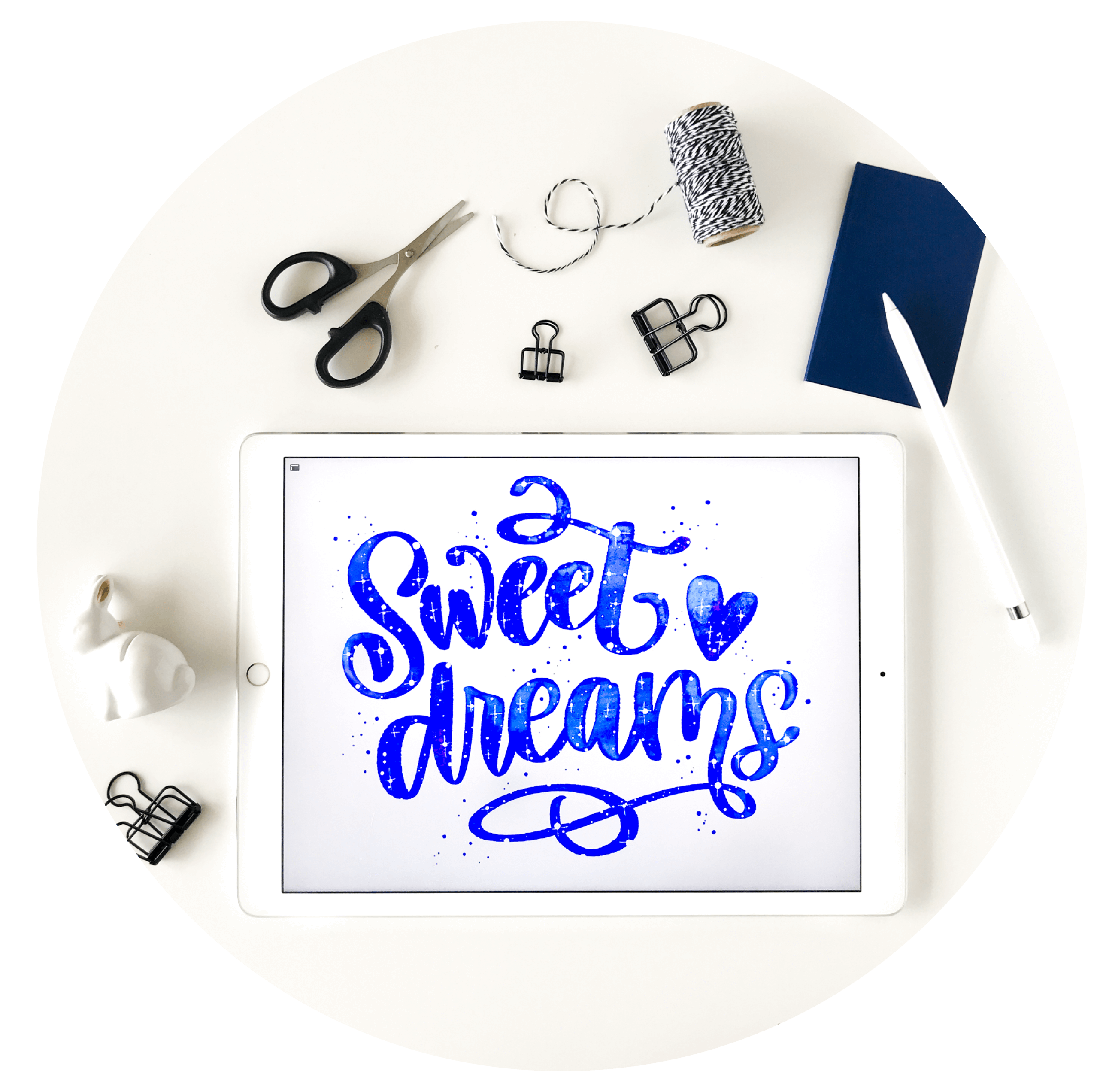 iPad Basics
Why the iPad and Apple Pencil? What are the best apps to use for creating with the iPad and for storing those creations? What do those apps do? What is Procreate and how do I use it? How do "layers" work? What gestures can I use to save some time? What do all these symbols mean? How do I get my Procreate brushes into Procreate? You will learn all the basics and have a solid foundation to build the rest of your knowledge on.
Color Techniques
Paint splatters, rainbow gradients, glow effects, 3-D lettering effects, streaky chalk lettering and more! Learn all of the color techniques you'll need to create stunning backgrounds for your art and lettering that pops! And you'll wrap up the module by learning how to take your creations from the apps and how to place them into a mock-up or stock photo (so it can be your little secret that your art was created on the iPad - if you want!).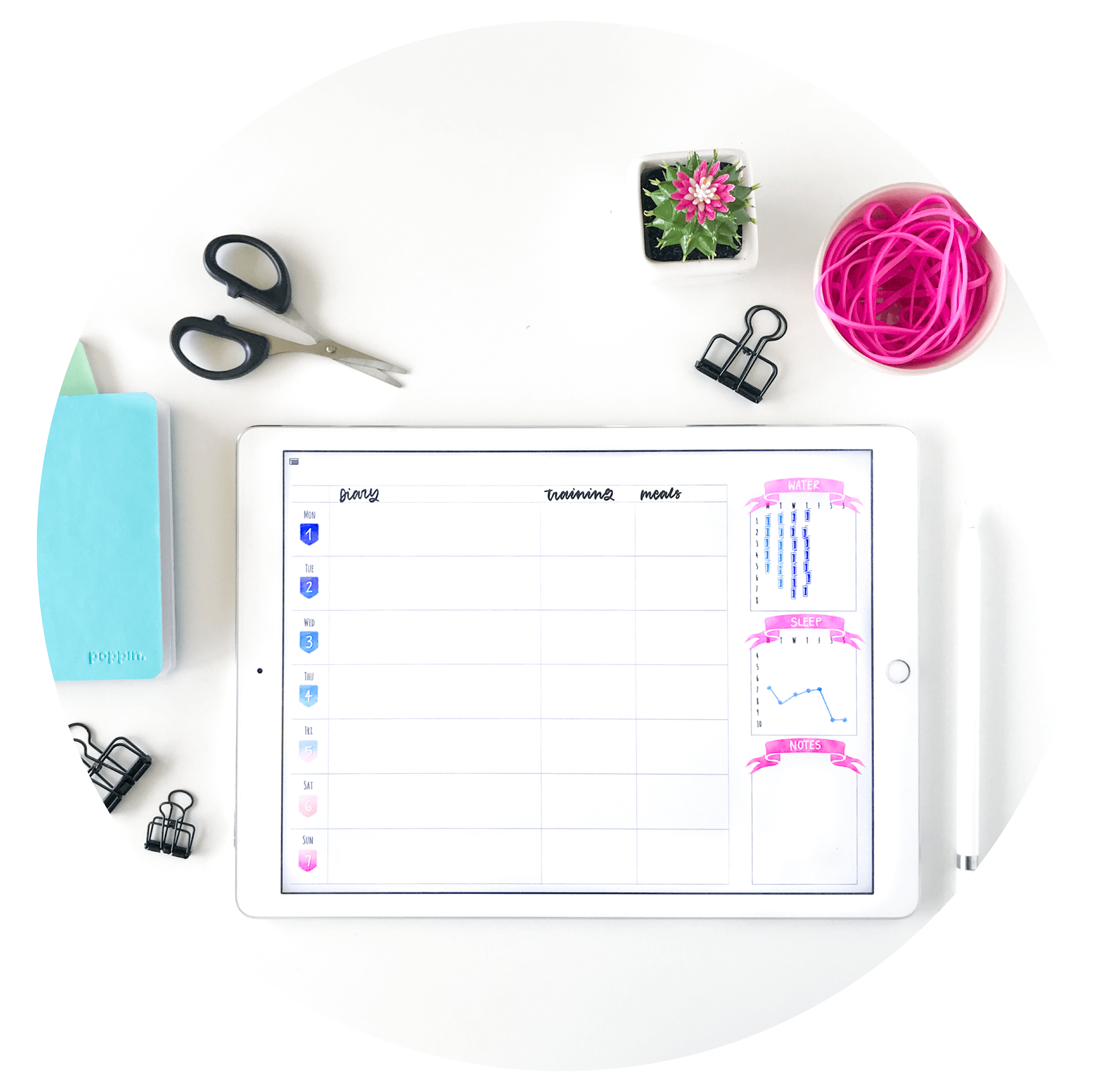 iPad Journaling
Next, you'll be learning how you use your iPad and Apple Pencil for bullet journaling. Karin shares her best timesavers like how to create templates for your logs and trackers, making your own brush stamps with your journal doodles, and one of the best apps (that isn't Procreate) to quickly create the perfect journal pages. And finally, you'll be learning how to turn those pages into beautiful (and functional) works of art!
Creating a Wedding Suite
Put all your skills together by learning how to create a customized wedding suite that no one will believe was created on the iPad - complete with monogram, save the dates, invitations, envelopes, name cards and thank you cards. You'll also be learning all of the printing tips you'll need to get the wedding suite from your iPad and into the hands of the lucky couple and their wedding guests. 
WHAT DO YOU NEED?
For iPad Bootcamp, you will need the following supplies:
An iPad that is Apple Pencil compatible

An Apple Pencil

Procreate (and access to Apple's App Store to download other apps that will be suggested throughout the course)
The following supplies are not mandatory but are suggested:
a device to watch the course lessons (that is separate from the iPad that you will be using for the course - it helps to practice while you learn!)

access to a printer to print the worksheets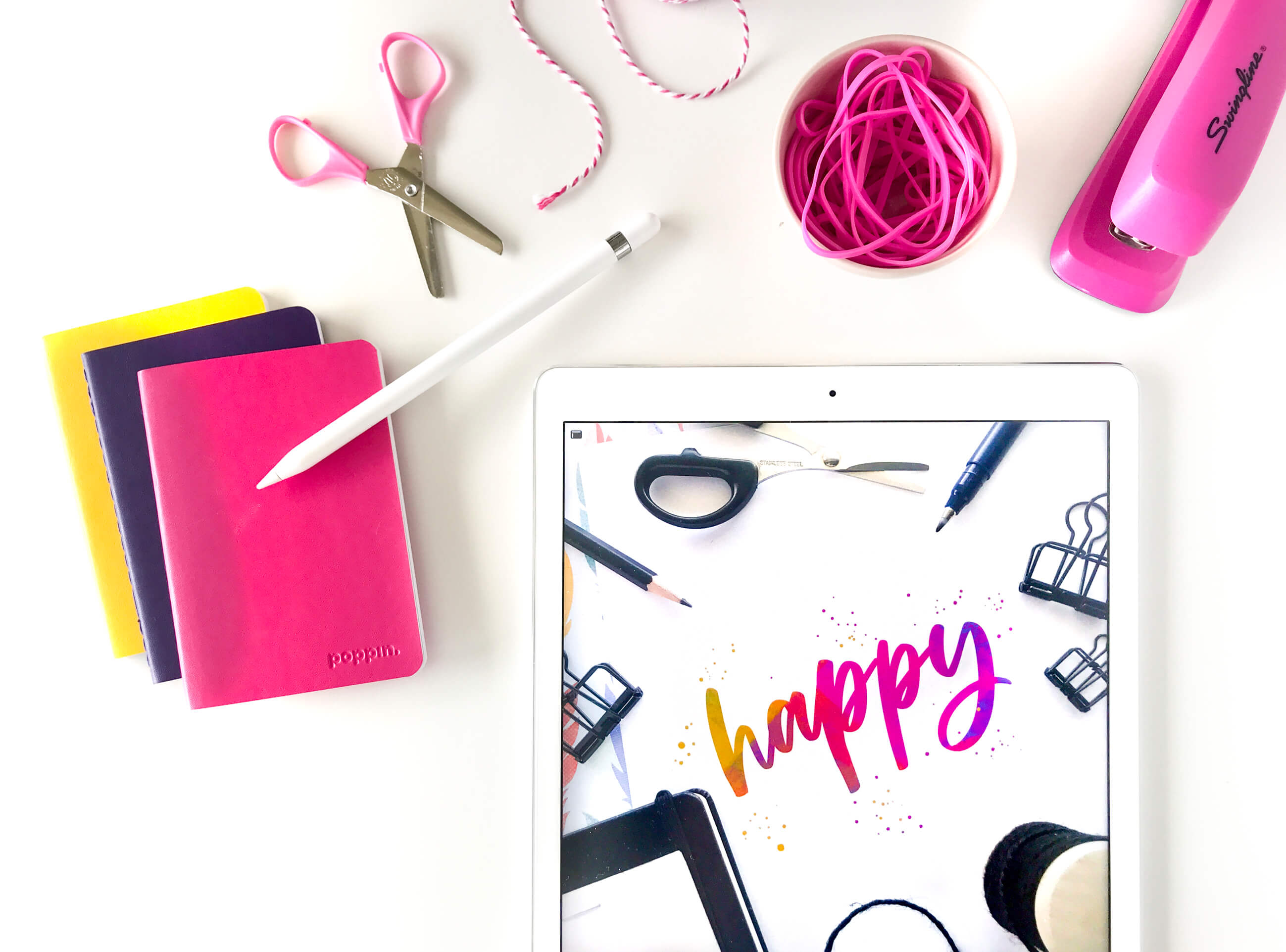 Frequently Asked Questions
I have already taken "Limitless iPad Lettering" with Stefan Kunz - how is this course different?
Karin and I put a lot of effort into making sure that iPad Bootcamp is different! iPad Bootcamp was created with "Limitless iPad Lettering" in mind, so that the main content wouldn't be duplicated and that students wanting to take both of these courses would be able to learn unique skills from each course. The only small overlaps may be some of the basics - because while we want you to have the option of taking both courses, we didn't want to make it mandatory for you to take both.
We did our absolute best to make sure that each course "stays in its own lane" (as the cool kids say)!
In a nutshell, I think the easiest way to put it would be that "Limitless iPad Lettering" focuses on lettering and lettering techniques while using the iPad while iPad Bootcamp focuses on how to use the iPad as an "all-in-one" design tool and fully utilizing its capabilities and apps to be able to create stunning visual effects using blend modes, background techniques and layers, and taking all of those to make real life artistic projects.
iPad Bootcamp focuses on using the lettering techniques that you already have and enhancing those by unlocking the full potential of the iPad, Apple Pencil, Procreate, and a few other apps, to allow you to create stunning digital and print designs!
What is the course schedule? How long do I have to complete the course?
iPad Bootcamp is comprised of online video lessons and other downloadable course content. The course can be watched on your own time when it is convenient for you. It is a self-paced course and your access never expires. You can work through the course when, where and as many times as you'd like!
Will we only be using free apps in this course?
Karin will suggest free apps when possible, but several of the suggested apps you would have to purchase in the Apple App Store. But don't worry, Karin has wasted money on ALL the apps so that she's only recommending the apps that are the best of the best (aka worth the money) to you!
Do I need an iPad and Apple Pencil to take this course?
Yes, you will need both an Apple Pencil and an iPad that is Apple Pencil compatible. But iPad Bootcamp will teach you how to get your money's worth out of both of them!
What level of experience do I need to have to enroll in this course?
This course is great for iPad users of all experience levels! iPad Bootcamp takes you through your iPad paces - from the basics to the advanced. But by the end you will feel like an iPad expert!
I don't know how to hand letter - will iPad Bootcamp teach me how to hand letter too?
iPad Bootcamp does not teach you how to hand letter, but it does teach you how to take your hand lettering skills and turn up the "wow" factor of your designs by using your iPad. If you are looking to learn hand lettering, the Let's Start Lettering online course would be the perfect place to start (and the course materials include Procreate compatible worksheets, so you can practice your lettering on your iPad too!)
Watch a sneak peek of just some of the techniques you'll learn in iPad Bootcamp!
Want to see a sneak peak? Here's a slideshow of some of the projects you'll create and an example of the techniques that you'll learn in iPad Bootcamp. Karin and I had so much fun creating this course for you and we can't wait for you to join us!