I have a large collection of pens, it's true, and I use different pens for different purposes, but I also have a handful of pens that I reach for over and over again. To save you time (and money!) I will give you the low down on my favourite go-to pens in this Question and Answer period below where I will interview myself (because the only other people around here to interview me are under the age of 3) …
Q: Hi Amanda, have you always loved pens?
A: Why, yes, Amanda, I was consistently made fun of in university for my strict adherence to specific pen brands, widths and colours for note taking. I always had one pen in my hand and a collection in my lap because, heaven knows, a subtitle could only be underlined with a 1.2mm green ballpoint, not a red!
Q: Which pens are your favourite now?
A: I'm so glad that you asked! I can't wait to show you my collection.
Q: When would you use a soft nib versus a hard nib?
A: Oh Amanda! I was just about to get to that before you so rudely interrupted me! If I'm working on fine details or I want to get perfect, fine hairlines, then I use the hard nib pen. It is slightly less flexible than the soft nib and because of that the tip is more rigid. The soft nib is great for pieces where the letters are slightly larger or I want to have a more definite line.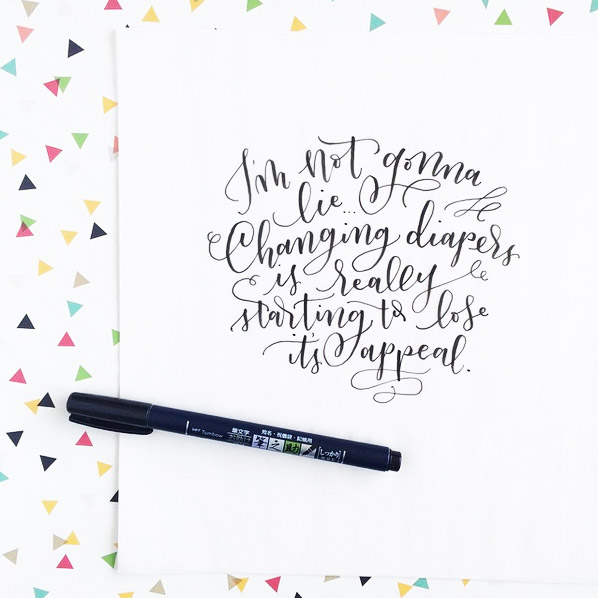 Q: I know you love your Tombow pens. Do they pay you to say that?
A: Nope! I wish they did but that doesn't influence my opinion at all! Just to prove that they don't pay me (yet…?), I will tell you about another pen that is amazing and isn't a Tombow. It's the 
Pentel Sign Pen
 with a Brush Tip. That part is really important. There are Pentel Sign Pens that don't have a brush tip so make sure that you get the brush tip ones. These pens are lovely and smooth and they last a really really long time! They have a slightly wider, more flexible nib than the Tombow Fudenosuke hard nib and they are a joy to write with. They also come in a full set of bright and vibrant colours which write beautifully. The colours on the outside of the pens leaves something to be desired, but the actual ink colour is much nicer than what you expect.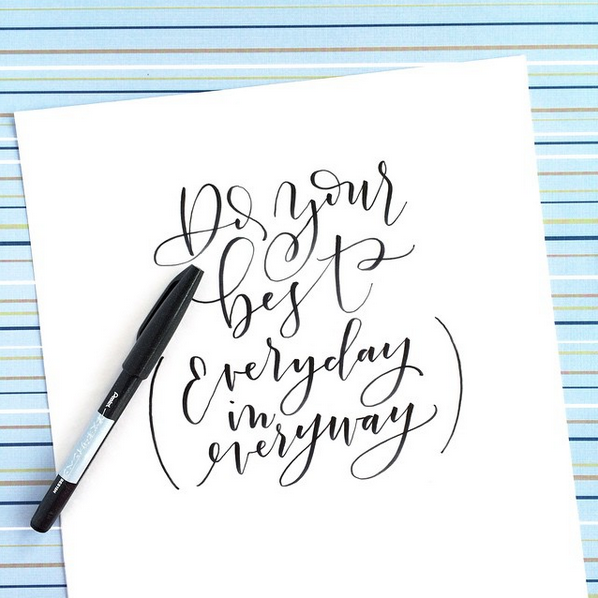 Q: How do you write on canvas and wood and such?
A: For that, I usually use a 
Sharpie Brush Marker
. These are great… at first. They lose their concentrated colour quickly and begin to dry out. For any project that you do, make sure that you have a few fresh markers on hand just in case the vibrancy of the black begins to wane.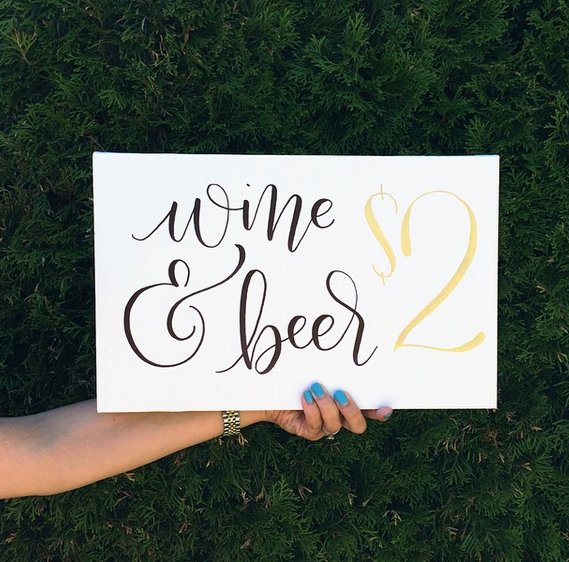 Q: Do you also use your Sharpies on the posters that you do?
A: Nope! Sharpies have the tendency to bleed into the paper fibres. I use a 
Tombow Dual Brush Marker
 for my poster work. I work through my poster with the brush pen and then flip the pen over to use the nib tip to touch up any areas that aren't totally perfect. This is ideal because I don't even have to get up to try to find a different pen!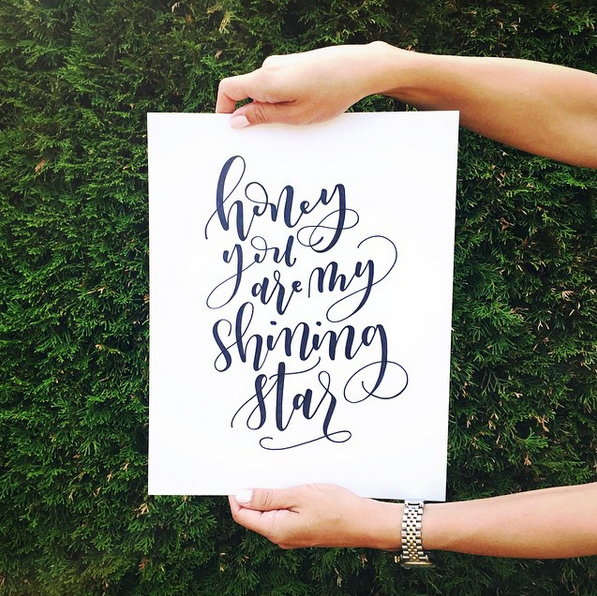 Q: So you're telling us that you're lazy?
A: Once my kids are in bed, I try to move as little as possible.
Q: How do you store all of your pens?
A: I have small boxes that hold all of my pens. I have them separated by type so all of my Tombow Dual Brush Markers are together, all of my other coloured brush markers are grouped, my new, yet-to-be-used markers are in a third box and my black and grey markers of all shapes and sizes are in a fourth box. This storage solution also allows me to quickly grab a box and bring it anywhere in the house (like into the bathroom to do some lettering while my kids play in the tub). It also keeps the pens stored on their sides, something that is really important for ensuring the longevity of most pens (I know that the Tombow Dual Brush Markers are able to be stored on end but I'm still to nervous to put them that way)!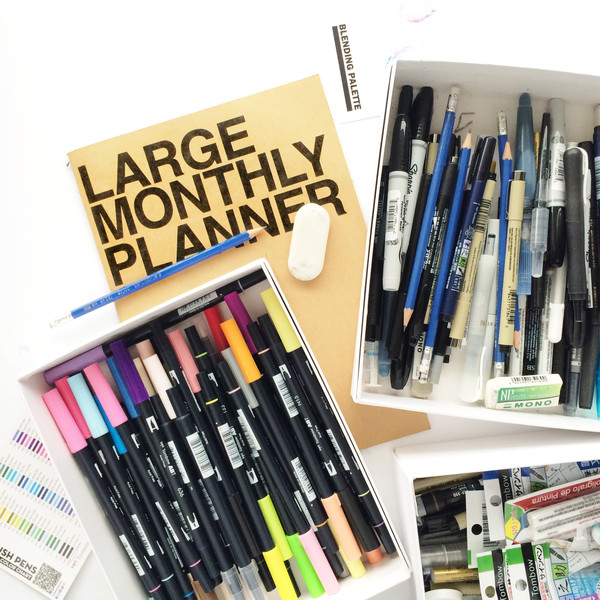 Q: There are so many Tombow Dual Brush colours to pick from. Do you have any specific ones that you recommend?
A: I absolutely love my 
Bright set
! The colours are so vibrant that they pop on the page. But I love the softer colours as well. There are just too many good ones! I honestly use all of the colours that I own.
Q: I've seen that you also use a waterbrush for your watercolour lettering. Is that a pen or what is that?
A: I like to think that if a paintbrush and a marker had a baby, it would be a waterbrush. There are a few different brands and sizes of waterbrushes. People like to ask me which specific one I'm using in my videos, but usually it is just whichever one my kids aren't currently using to paint pictures at the dining room table (note to the moms out there: if you've ever found painting with your kids super frustrating, get them a set of waterbrushes and it will be much less painful. No more dry brushes getting shoved onto caked paint palettes, which is a total win in my books, because I'm so weird and that noise makes me gag).
If you keep your eyes peeled, I will be doing some future blog posts about using watercolour paint with lettering!
Q: Where can people buy these pens?
A: There are lots of different places! 
Tombowusa.com
 is a great resource for all things Tombow and they have free shipping on orders over $25. If you follow 
their Instagram
, they have sale codes quite regularly (and with Black Friday coming up in a month, you should get that shopping list started!). 
Jetpens.com 
has a wide selection of pens at competitive prices and, of course, there is always Amazon. As it is always nice to support smaller stores, 
Paperinkarts.com
 is a great resource for brush pens (and they also carry the amazing Dr Ph Martins concentrated watercolour that I use, waterbrushes (they're the cheapest here!!) and Finetec paint. A one-stop shop!!).
I hope that this has helped add to your pen arsenal! I find that my lettering style changes as I change pens. It is so much fun to experiment with a new pen and discover a new style to accompany it. If you're a newbie or a seasoned vet, new pens are always welcome so grab a few!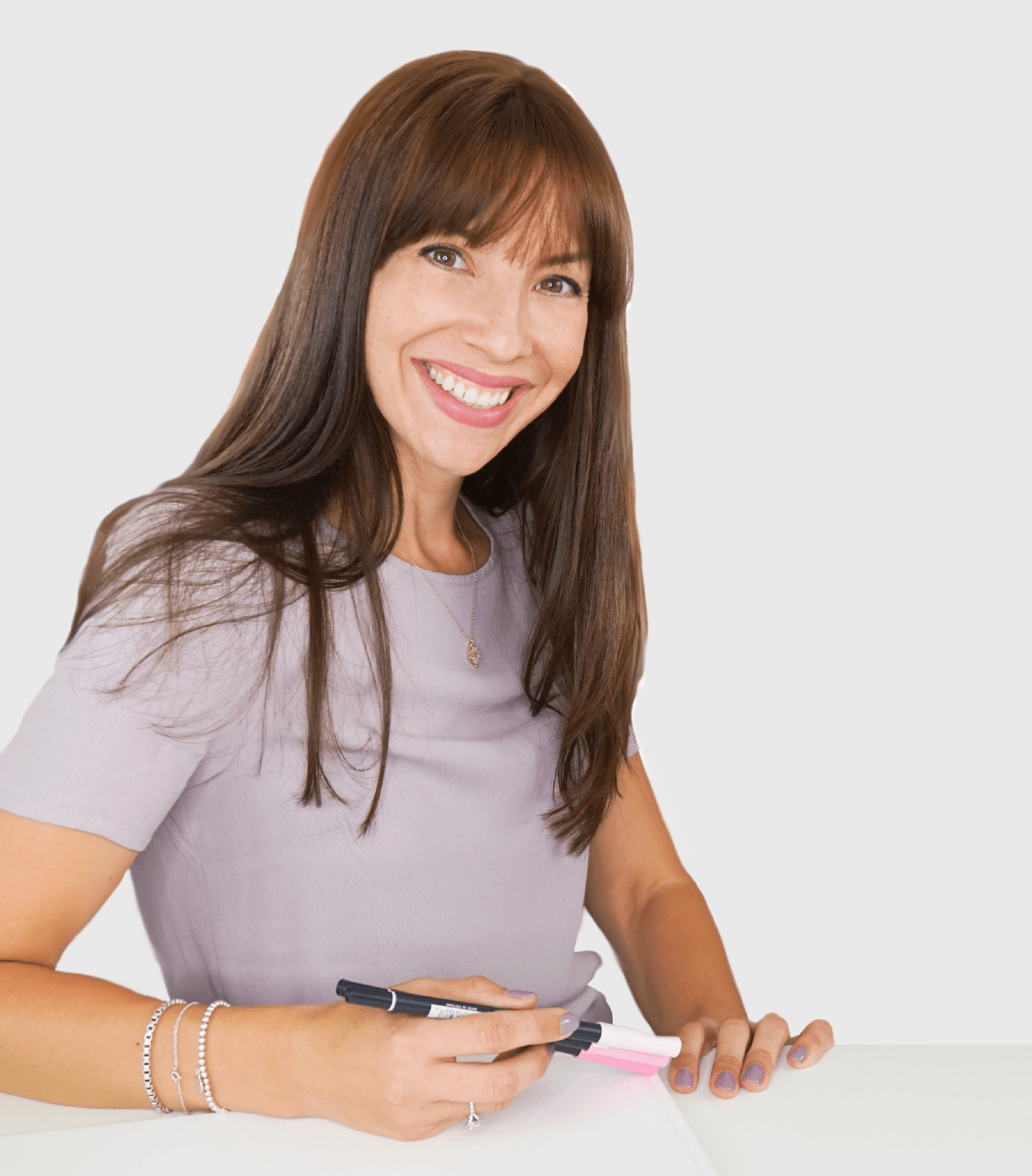 I'm going to assume that you're here because you love calligraphy, hand lettering and art... or maybe you just want to know more about it. Either way, you're totally in the right place!
xo
Amanda