Since the release of the Tombow Fudenosuke Colors 10-pack this past month (and since my very honest review of them), I've been having so much fun playing around with these brush pens and testing out new techniques! One stunning technique that I've been trying out with the Tombow Fudenosuke Colors is a 2-color blend that leaps off the page with the help of a pop of color and a shadow. Just look at it!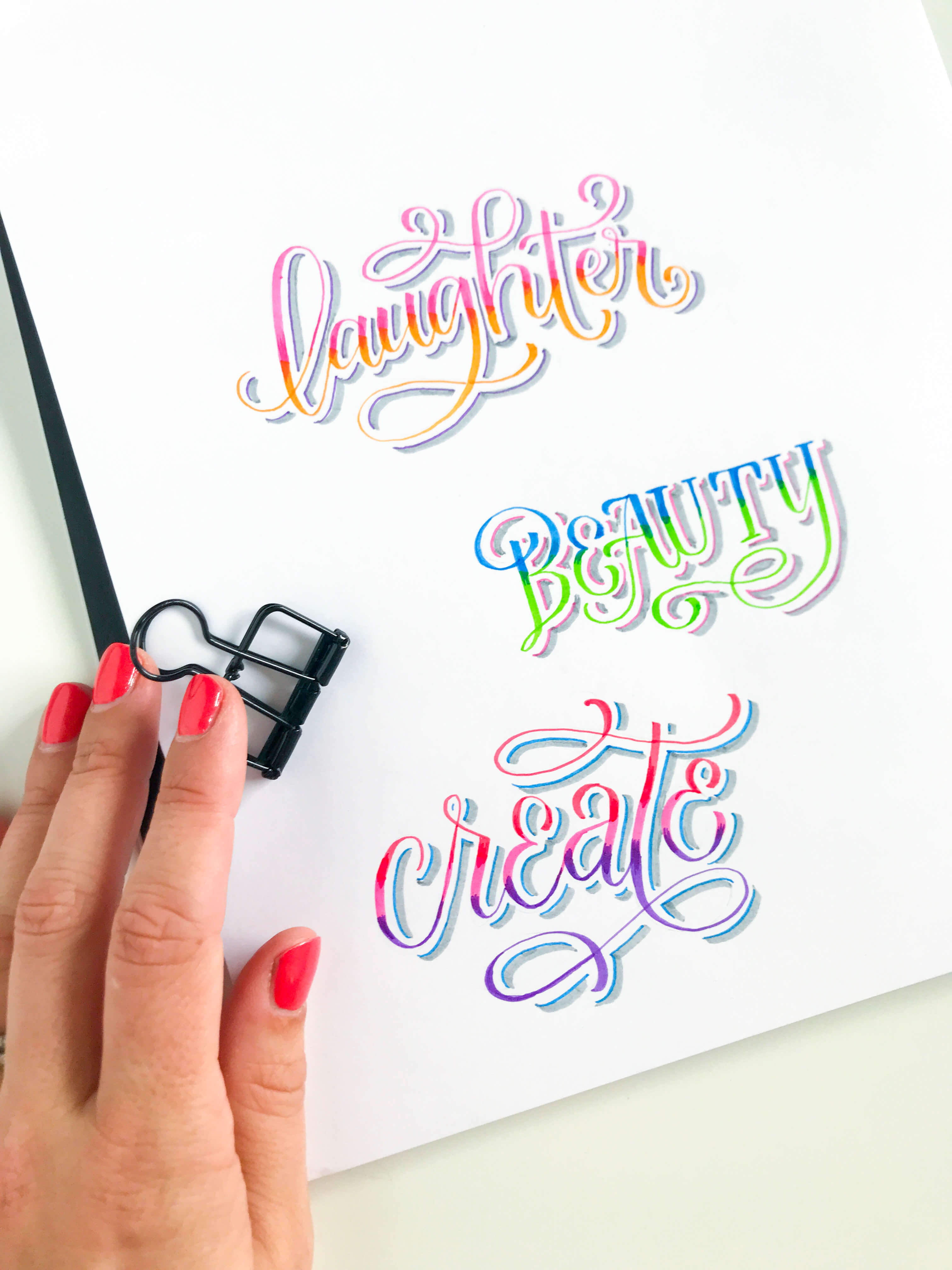 So, naturally, I had to put it in a tutorial to share with you! If you've already got your hands on the new Tombow Fudenosuke Colors – I hope this tutorial will give you an extra excuse to play around with them! Don't forget to share your blending photos with the hashtag #amandaarneillblog so that I can see your beautiful blend creations!
WATCH THE FULL TOMBOW FUDE COLORS BLENDING TUTORIAL HERE!
MATERIALS:
Pencil (the lighter lead the better!)
HOW TO:
First – pick your colors! You will need:

Two fudenosuke colors that are side-by-side on a rainbow wheel (or at least close enough to the other so that they will make a nice blend where they meet – I definitely broke the side-by-side rainbow rule right off the bat by picking pink and orange – oops!)
One complimentary "pop of color" color
The gray for shadow

From the two colors that you will use to make you color blend, test out to see which color is the more saturated of the two and which is the least. The more saturated color will form the top of you letters and your less saturated color will be used for the bottom of your letters
Sketch out your word(s) on your paper with pencil
Erase your pencil lines so that the pencil is very faint, but you can still see it enough to use your pencil lines as a guide
Take your less saturated color and form the bottom of your letters, imagining an invisible line going through your word(s) and taking the color up to this point. Take the bottom color up about halfway for your mid height letters and slightly less than halfway for your full height letters
Then, take your more saturated color and complete your letter forms, creating a slight overlap/blend between your two colors
Take your "pop of color" brush pen and draw a thin shadow line with the fine tip point of the pen, placing this line slightly to the right and slightly below the letters. Remember to keep consistent spacing between your shadow line and the letter form
Finally, use the gray fude to add a thicker shadow to the right of your shadow line, tapering any areas that would otherwise overlap with your letters to allow for there to always be a white border between the shadow and the letter form
TIPS & TRICKS:
Make your letters slightly larger than you would normally to leave yourself room to add the pop of color and the shadow
Go slow enough so that your ink dries and you can avoid smudging your gorgeous piece!
Feather in the overlapping/blended areas to soften the transition between your colors
By the way, if you missed my honest review of the Tombow Fudenosuke Colors 10-pack, you can watch it right here!
Happy blending, friend!
xo
Amanda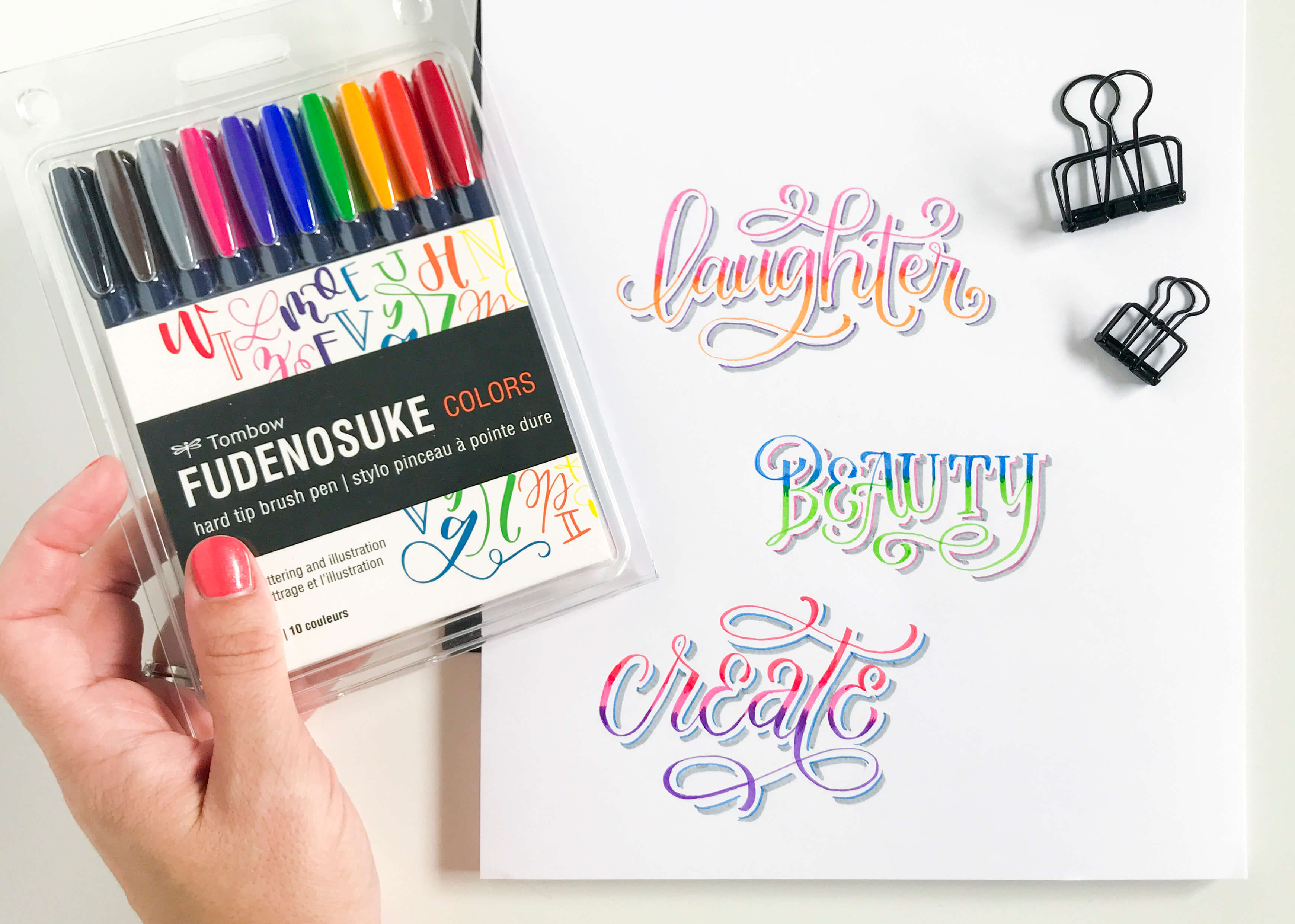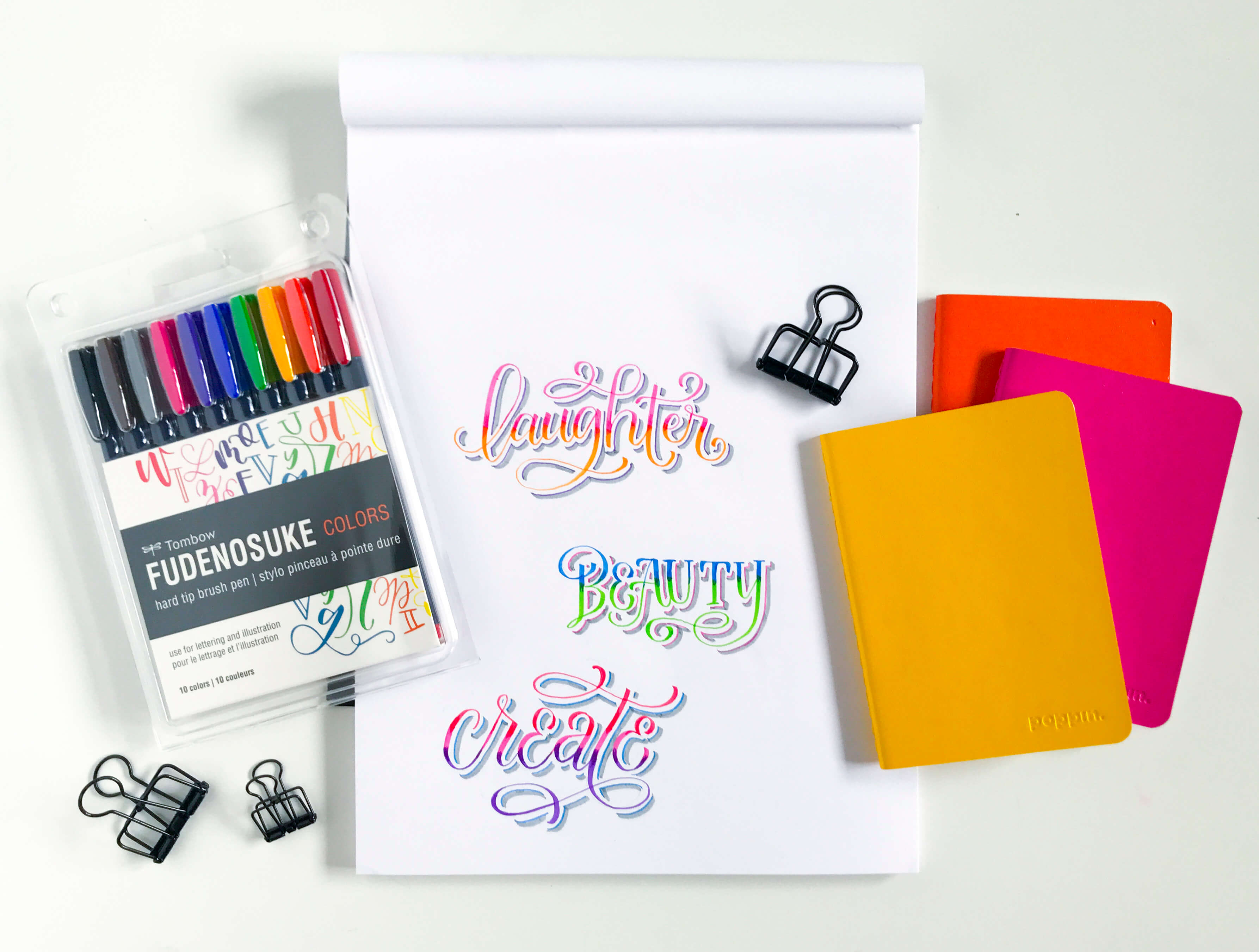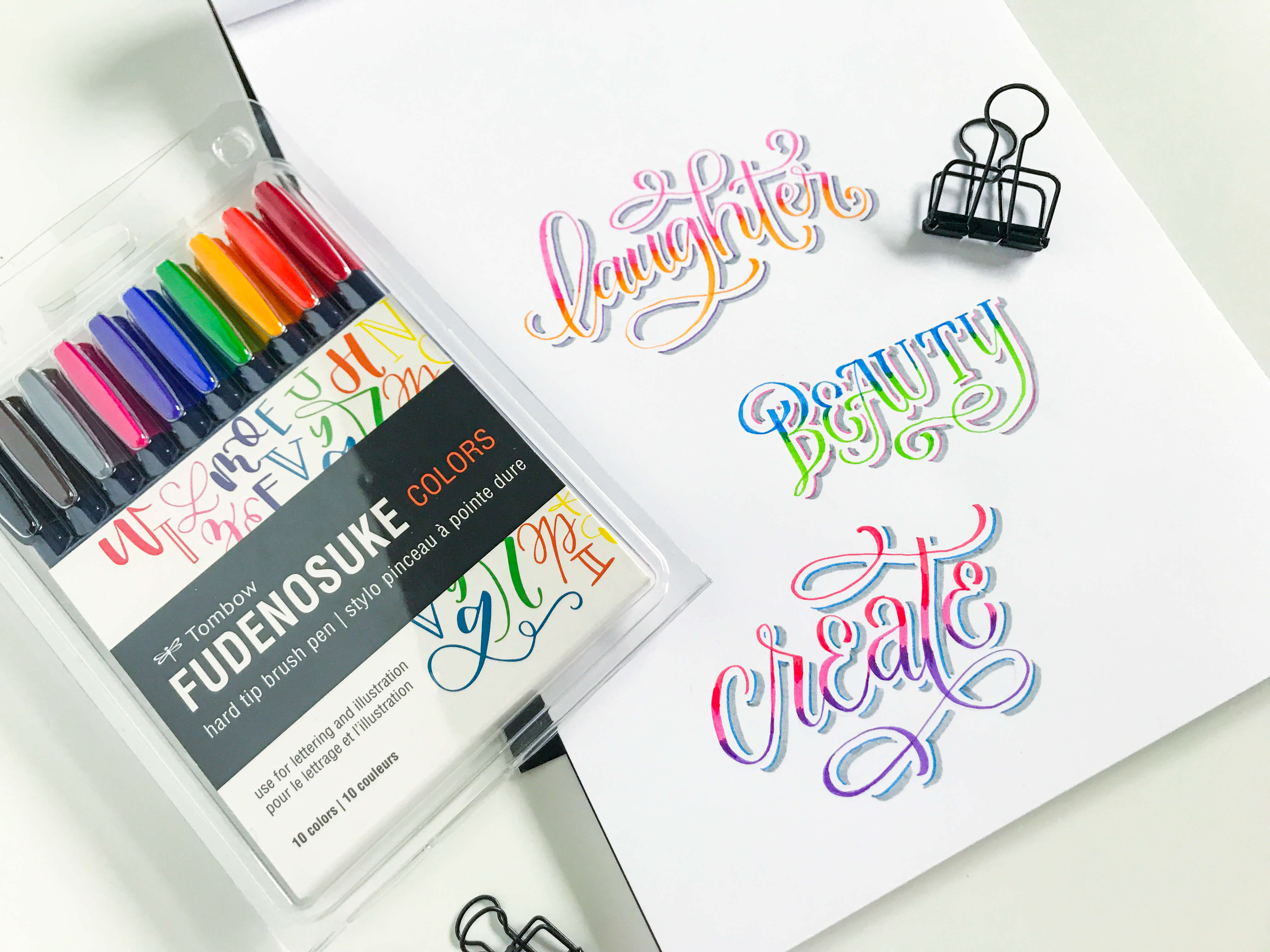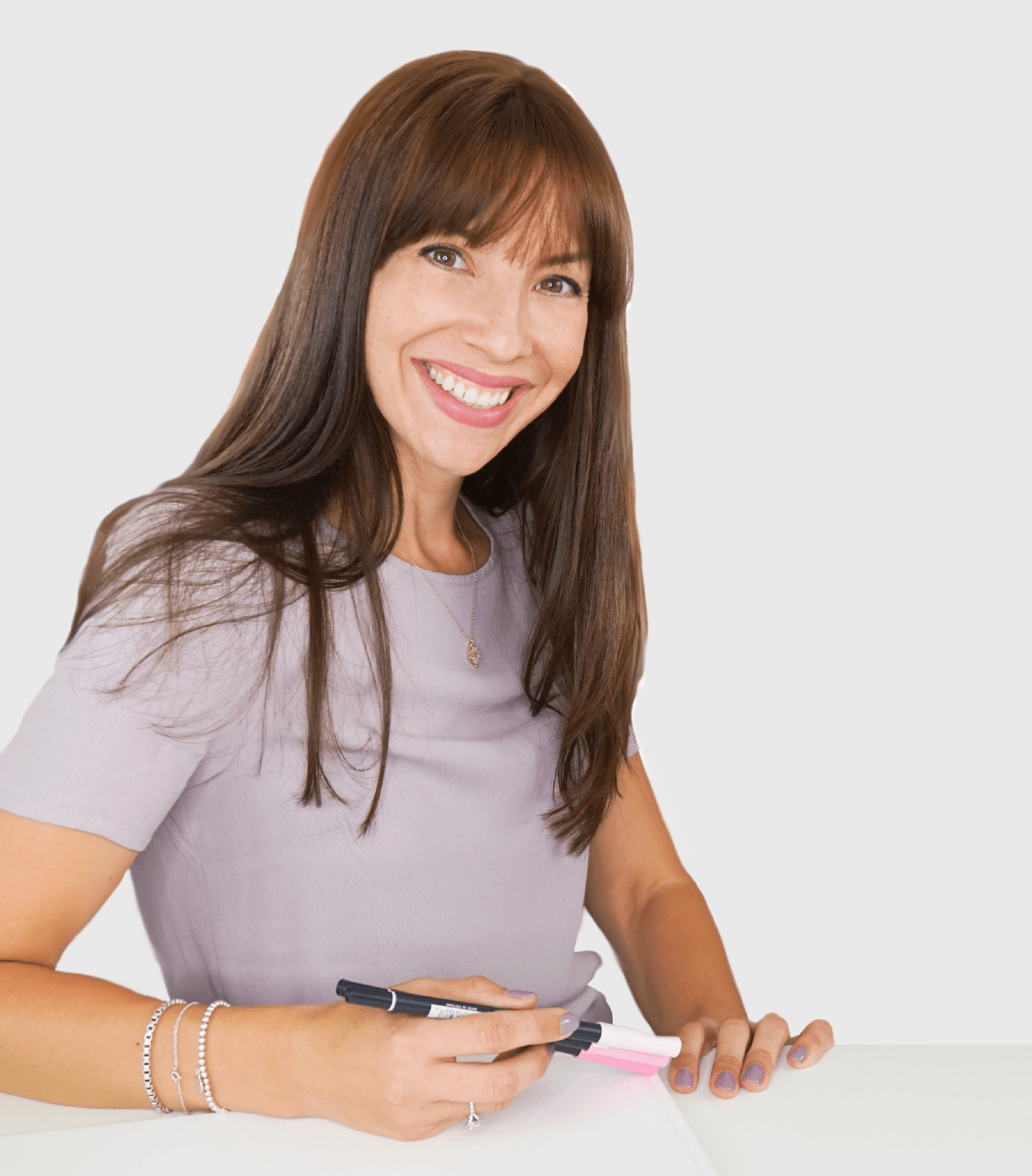 I'm going to assume that you're here because you love calligraphy, hand lettering and art... or maybe you just want to know more about it. Either way, you're totally in the right place!
xo
Amanda