Let's find the perfect course for you. No matter where you are in your lettering journey, let's catapult you even further!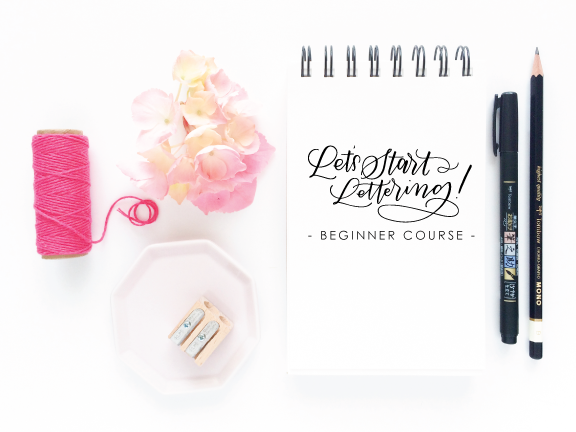 Let's Start Lettering
When I first picked up a brush marker, I was convinced I was going to be awesome... and I was terrible. Pick up your first pen with confidence!
The Let's Start Lettering Online Course brings everything you need to know together in one place to give you complete instruction, natural progression, and lots of tips and tricks.
Instead of wasting anymore of your time struggling to learn by weeding through YouTube tutorials, Pinterest posts, blogs and Instagram accounts to attempt to figure out the basics of lettering, after Let's Start Lettering, you will be well on your way towards mastering this stunning skill.
co-taught by Jeannie Dickson and Amanda Arneill
In Fresh Watercolor Florals, a beginner-friendly online course, you will learn to easily, effortlessly and efficiently create your own breathtakingly vibrant watercolor floral pieces that are begging to be framed.
My hope is that Fresh Watercolor Florals helps you realize that your watercolor hobby is within reach, that you can create beautiful, floral watercolor pieces without dedicating a huge amount of time, space or money to your new hobby and that you can share your passion with the ones you love. Whether that may be painting with your little ones or sharing one of your watercolor pieces with someone who is special to you. Finally this is a creative passion that doesn't demand all of your time, energy and attention. Instead, it can be a welcome outlet for all of your beautiful creativity.
It's time to stop looking at the watercolor creations of others and start creating your own!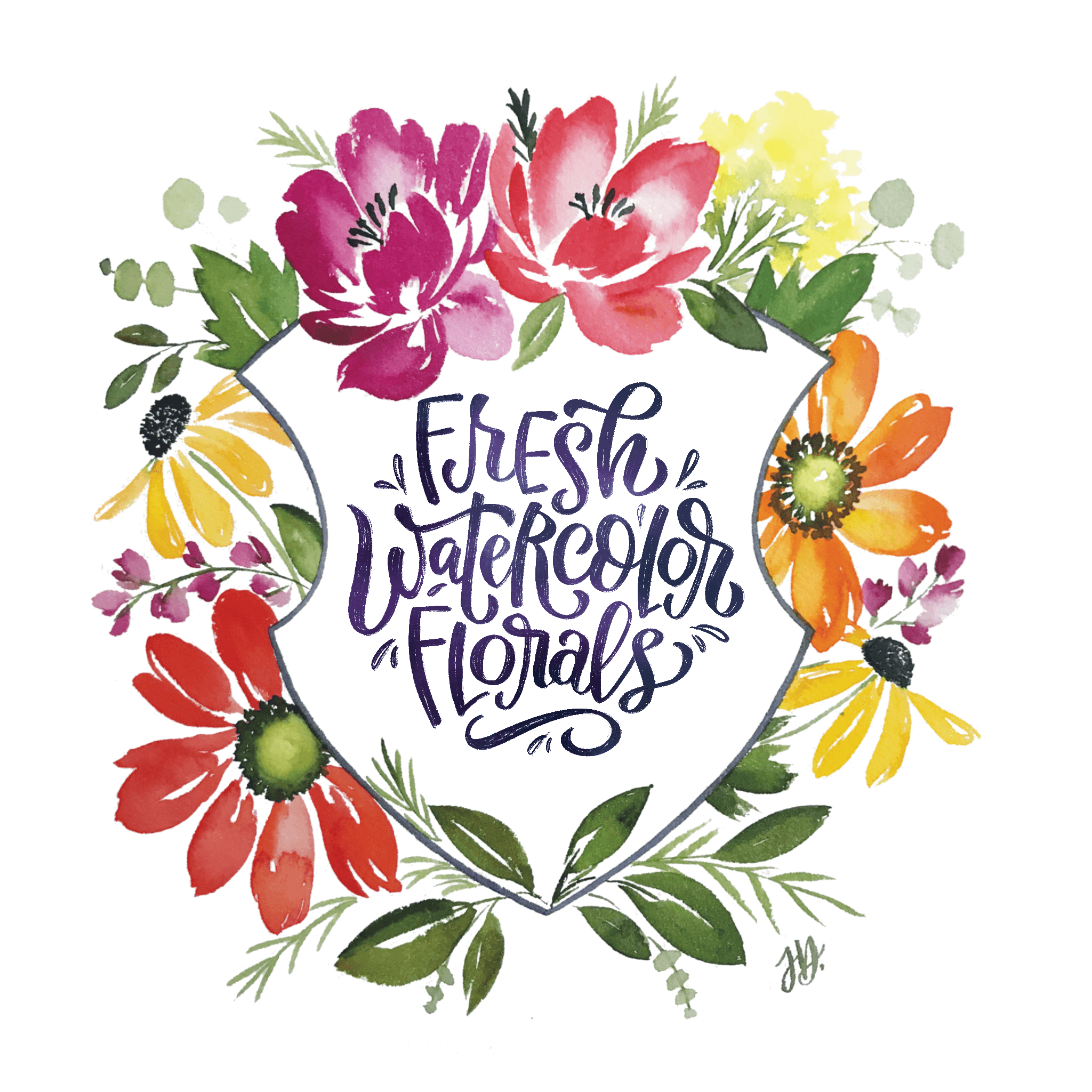 co-taught by Jacy Corral and Amanda Arneill
Drawing doesn't have to be intimidating!
It's time to draw and doodle with confidence...even if you think you can't draw! This beginner-friendly online course will give you the ability to create beautifully drawn pieces from book illustrations, to personalized art, to projects just begging to be professionally printed.
Swap fear for fun as you unlock your inner illustrator with the Illustrative Doodles online course!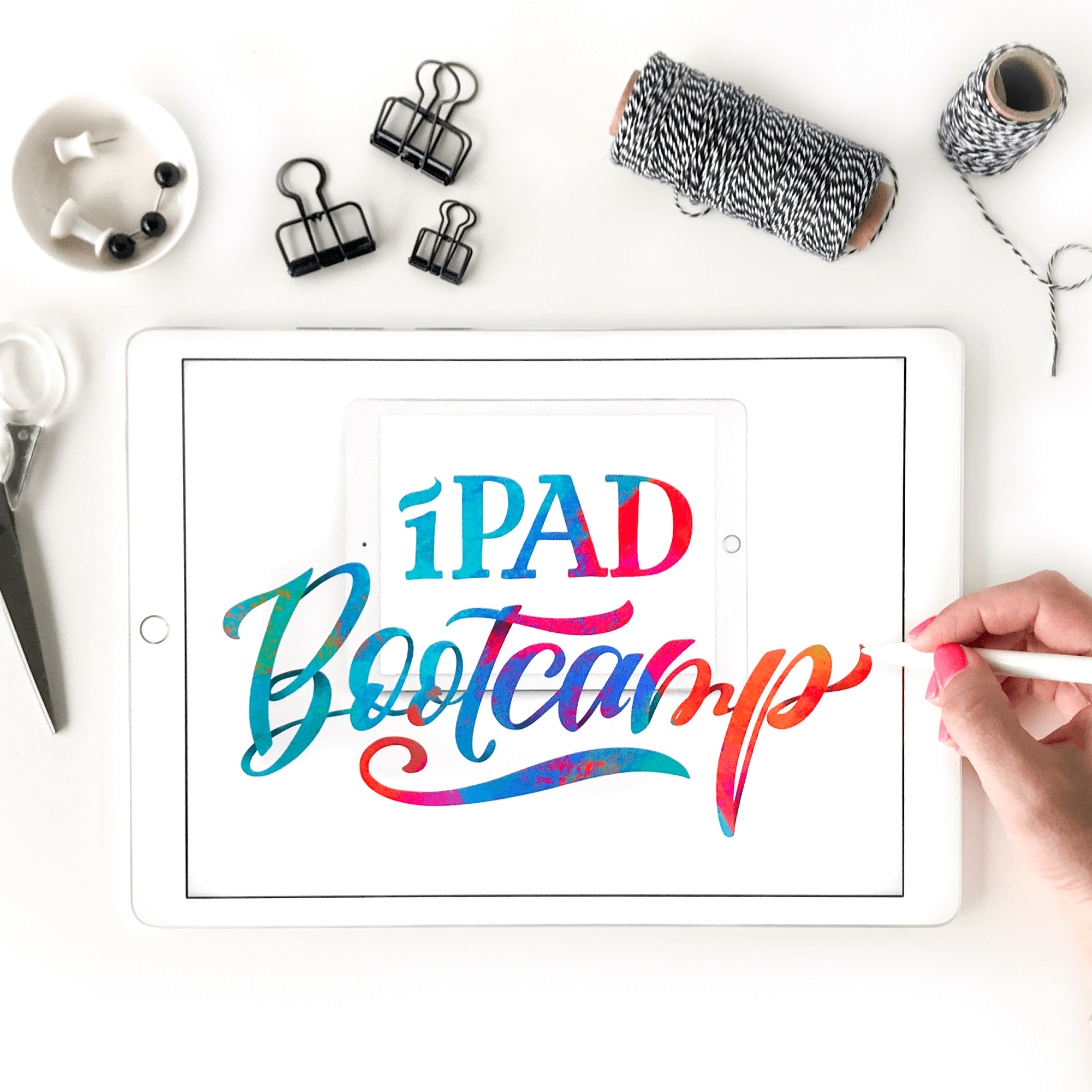 If you own an iPad and Apple Pencil, and have a desire to create beautiful designs by utilizing your iPad as an "all-in-one" design device, then this online course taught by Karin Newport of @ipadlettering and Amanda Arneill is for you!
In iPad Bootcamp, you will learn everything from the basics - like the best apps and Procreate 101, to the practical - like using your iPad as a beautiful bullet journal, and to the advanced - like creating a full, custom wedding suite and how to get your stunning creations from your iPad screen and on to paper. After this course, the only limits to the creative possibilities available to you with your iPad will be the limits of your imagination!
iPad Watercolor Wonders Lettering & Art
The amazing Karin Newport (@ipadlettering) is back again to teach us her iPad ways! With iPad Watercolor Wonders, learn how to create realistic watercolor lettering and art all on your iPad with your Apple Pencil.
Karin has done all the experimenting to save you the time and hassle! Learn how to achieve the perfect, textured watercolor paper using your iPad and how to get the realistic flow and color effects just like you would with real watercolors.
Go step-by-step with Karin and Amanda as you learn to create a plethora of art and lettering watercolor projects on your iPad and how to print your creations to achieve optimal results. Get all the watercolor reward without any of the mess!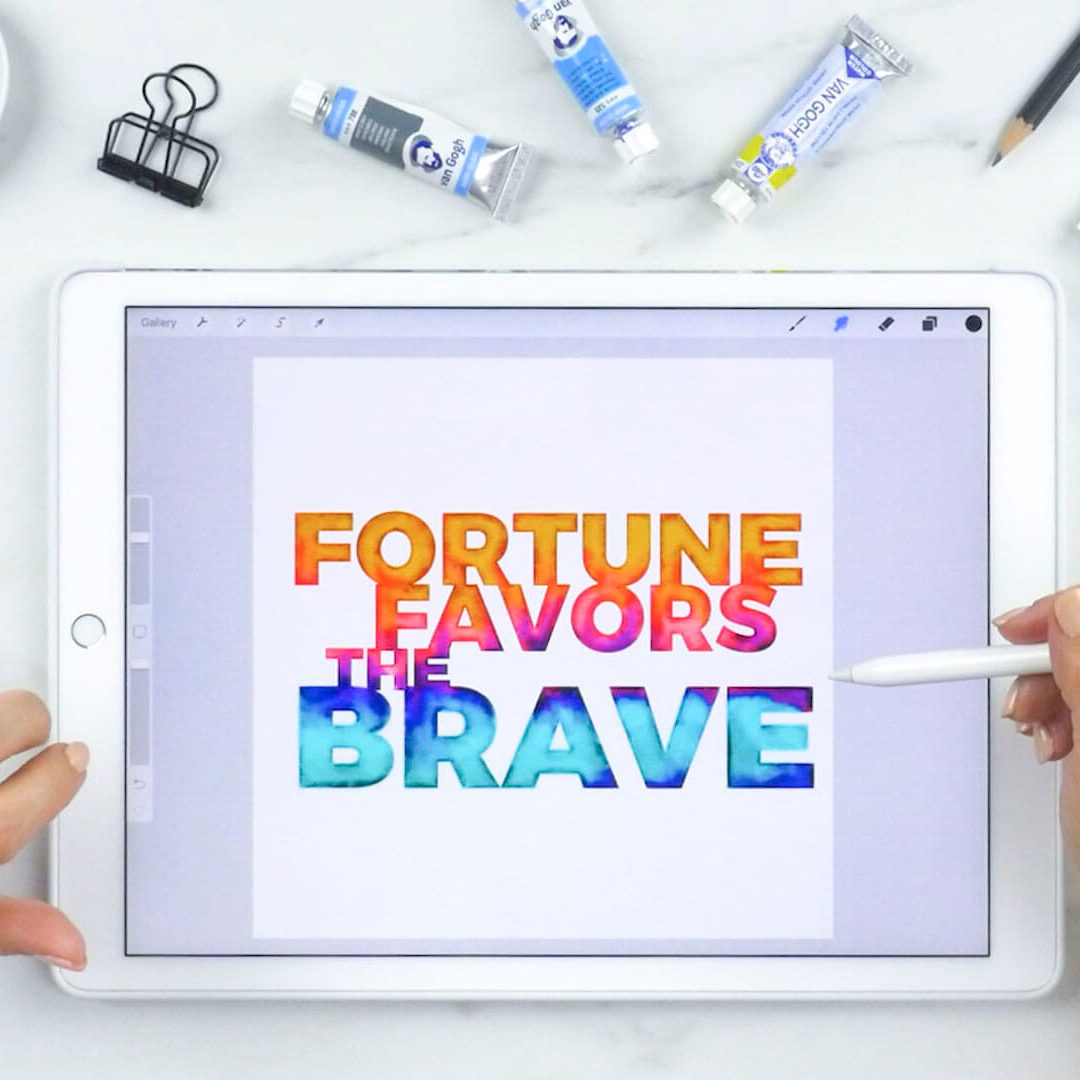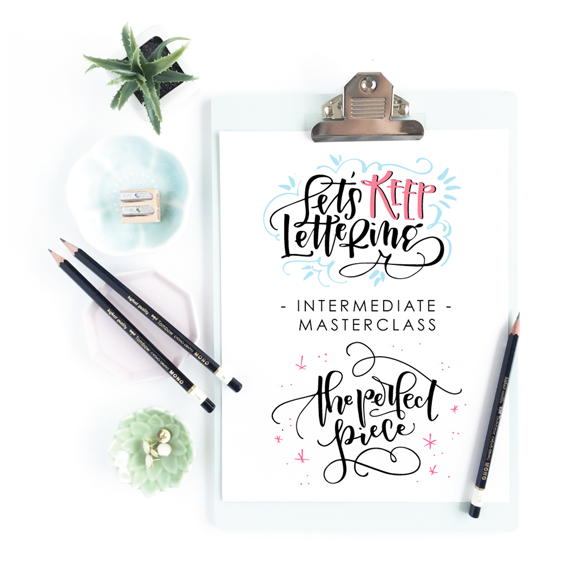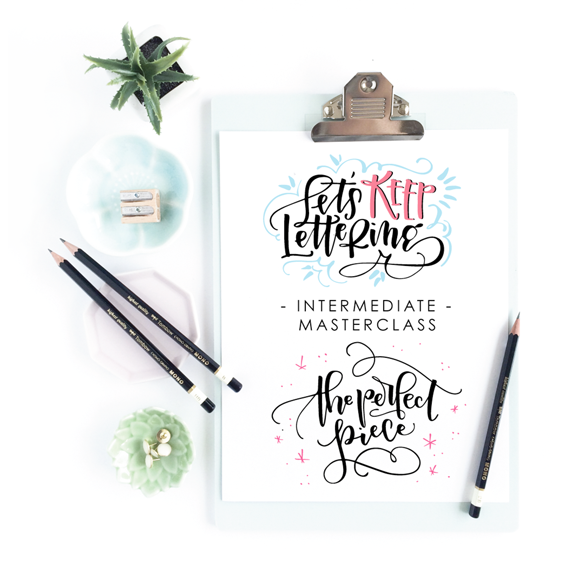 Intermediate Course Combo Masterclass
Once you have the basics mastered, there comes a point where you can only do so much and go so far. Enter the Intermediate Masterclass!
This course combines The Perfect Piece and Let's Keep Lettering Intermediate Courses with personalized feedback and support and extra live video lessons to take this from a regular course experience to something so much more. With registration opening only a few times a year, this course takes you further in 7 weeks than you've come in the last 7 months.
Welcome to the Cadillac of online lettering courses.
Digitize Your Designs
Those amazing piece that you're doing with your pen are stuck on that paper. In Digitize Your Designs we free them from the page so that you can manipulate them for perfect social sharing, isolate the letters for photo creation and, finally, vectorize those letters so that the possibilities for them are endless.
Let's take your gorgeous lettering and make it jump from the page to become printable items for your store, artwork for you to share or simply the perfect piece to adorn your own wall.  
taught by Stefan Kunz and hosted by Amanda Arneill
With the Procreate Brush Creation Power Course, you learn three distinct methods to successfully start, develop and finish creating your own personalized Procreate brushes, with the end result in mind. Before you know it, your own perfect Procreate brushes will be right at your fingertips!
co-taught by Melissa Fischer and Amanda Arneill
Want to make your time with your Bible or in church more meaningful? Use your natural desire to doodle, draw, write and create to dive to a new level of intimacy with God.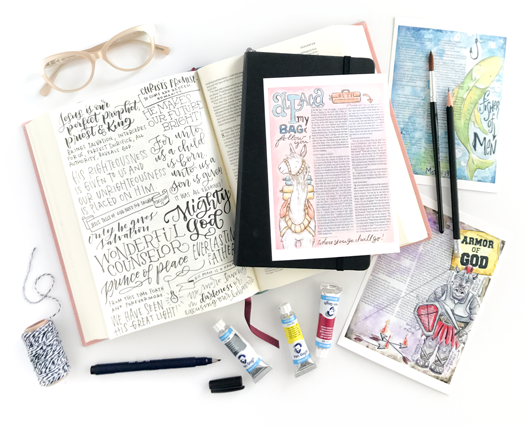 co-taught by Karin Newport and Amanda Arneill
Easy and convenient vectors based art and lettering projects can be done without the need for expensive programs or tech and the iPad Vectors Made Easy online course will show you how!
Create the perfect vector projects for yourself, others or your shop, entirely on your iPad.
Lettering Outside the Lines
Taught by Stefan Kunz
If telling you that the amazing Stefan Kunz is the one teaching this isn't the enough to get you signing up right away, then you obviously haven't seen the lettering he does. So  stop reading right now and check out his Instagram account @stefankunz.
Now you're back and you know how amazing he is. And he's here to share his alphabets with you. How to create them, how to pair them and how to combine them to make a solid stunning piece that's a serious show-stopper.
This is your course if you can brush-letter up a storm but want more. Stefan will take you past brush lettering into the more linear styles of lettering that makes his work stand out from anyone else's. You'll learn so many styles that you'll be laughing.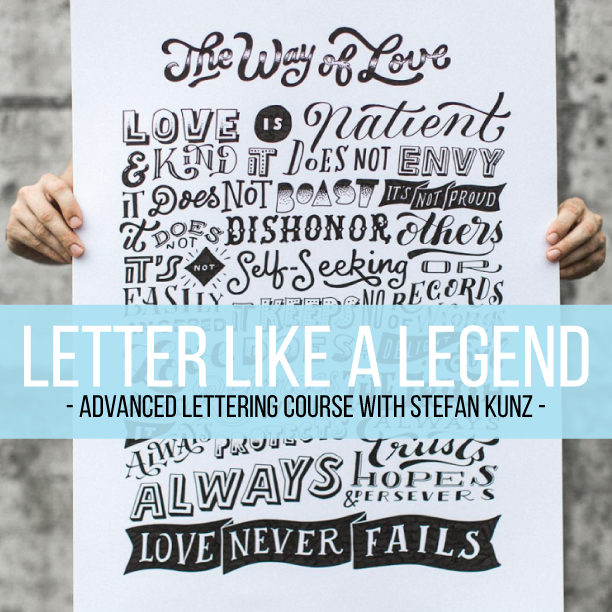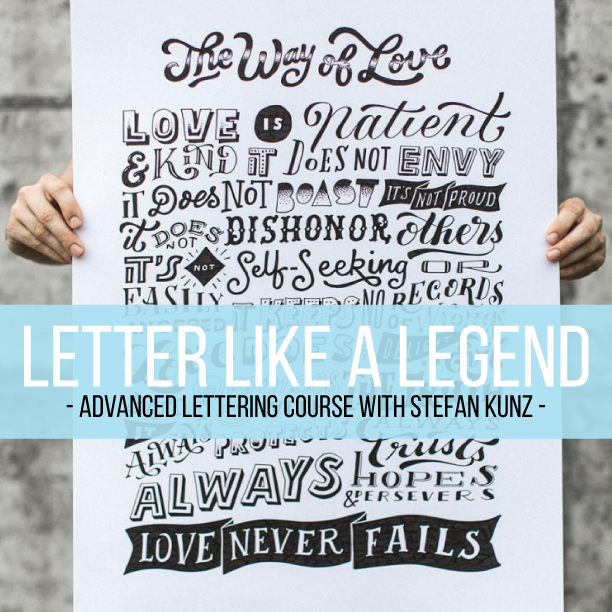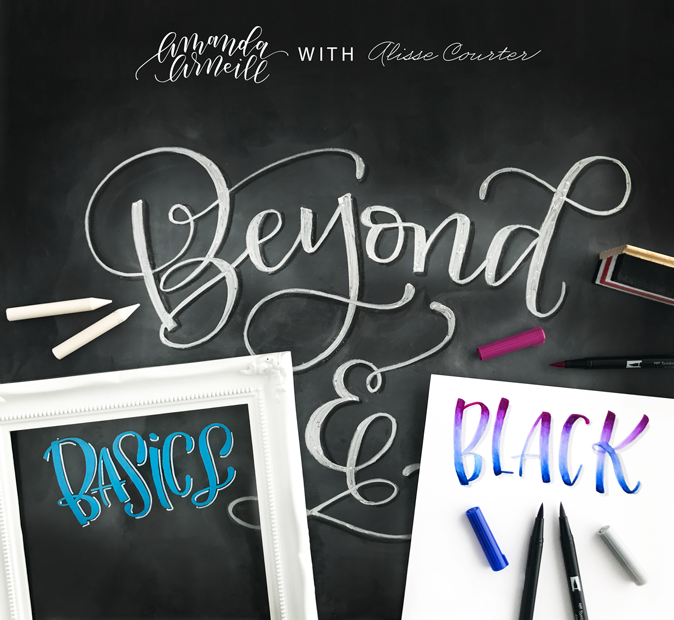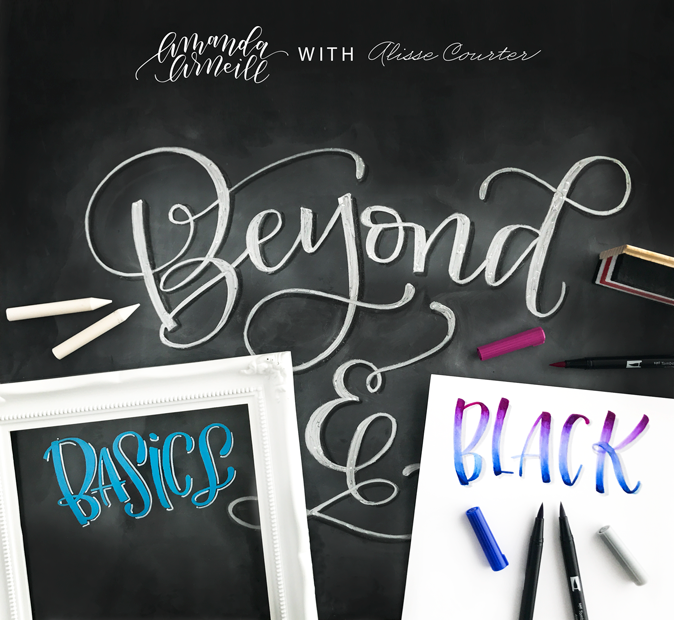 Beyond Basics and Black
co-taught by Alisse Courter and Amanda Arneill
Let's take your lettering even further by taking you off of the basic pen and paper and moving you to different surfaces and amazingly blended colors.
In this advanced course, Alisse Courter (@alissecourter) takes you behind the curtain and shares all of her wizard-like tricks for amazing blends that make the letters look like they are jumping right off the page (...hence the wizard status).
I constantly get asked how I letter on different items so that they last, look the way that the do, don't bleed and allow me to create pieces that allow me to escape from the paper jail. Learn all of my tricks and techniques for window lettering, writing on canvas and chalk art to take you beyond chalk basics to chalkboards you can ship without worry and digital manipulation of your chalk art on the iPad.
This course will open so many possibilities for you and will have your brain buzzing with all of the lettering you will be able to do! Toss that black pen and paper aside and let's get limitless!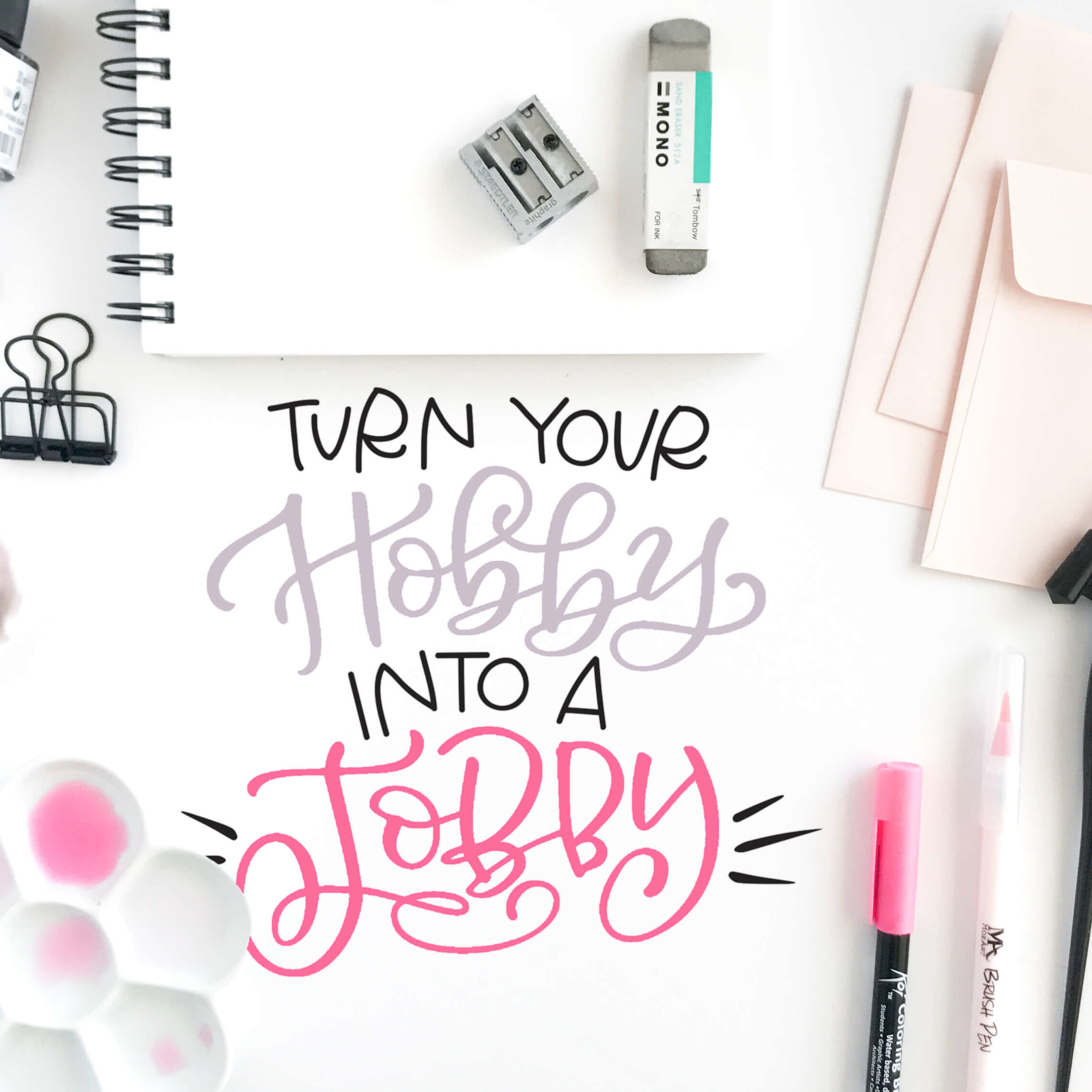 Turn Your Hobby into a Jobby
Your skills are there, your desire is there, but there is a huge chasm between you and actually having a business. And that chasm is full of shark filled water. Does that sound familiar? It did to me too.
I sucked it up and launched my business anyway...oh, and it was a huge flop.
But I learned from those mistakes, put myself through business bootcamp and launched my hand lettering business. This one has allowed me to give my family extra spending money and step away from a job that had my kids in daycare and crammed for hours in the car commuting every day.
Let's take the fear out of that chasm for you. With this course, we will build you a sturdy bridge that covers everything from logos, websites, marketing, social media, email lists, shipping, product creation, pricing, and so much more (customers, business planning - not the boring kind, product photography, niche marketing and more again).
Rather than overwhelming you with a bunch of information in theory, we will work through a set process to have you ready with all of the decisions, photos, products, short term and long term plans that you will need and a community set to support you.
Forget fear. This is happening. Sharks beware, you're on your way!
CO-TAUGHT BY STEFAN KUNZ & AMANDA ARNEILL
In the Mastering Social Media online course, the social media master himself, Stefan Kunz (@stefankunz) decodes the social media world for artists. Join me and Stefan as we discuss our social media journeys and what we have learned from them – so you don't have to make the same mistakes. You will also learn the tops "dos" and "don'ts" of social media for creatives, the skills you need to outsmart any algorithm, and how to build an audience of substance with meaningful engagement. You'll be introduced to the many ways that you can make money through your social media account and also the best way to approach and (successfully) solicit those opportunities. After this course you will know how to stand out among all the other accounts and grow your account to reach your full social media potential. Stop selling yourself short and learn the art of social media!
Student Love
From lettering for fun to creating a business, my students have done it all!
"I have gone through countless YouTube videos and Pinterest tutorials and have never found anything with the detail and guidance that I was looking for. But your program is just perfect!"
- Ashley
"I have progressed exponentially since beginning the course. I have rekindled my love for lettering because I FINALLY have the right tools and the confidence and reassurance that I'm doing it right.
Now I just can't stop practicing!
Your course in an investment I'm SO GLAD I made!"
- Lauren
"I have gone through countless YouTube videos and Pinterest tutorials and have never found anything with the detail and guidance that I was looking for. But your program is just perfect!"
~ Ashley
"I have progressed exponentially since beginning the course. I have rekindled my love for lettering because I FINALLY have the right tools and the confidence and reassurance that I'm doing it right.
Now I just can't stop practicing!
Your course in an investment I'm SO GLAD I made!"
~ Lauren
"You are so authentic and honest in your videos and it makes me feel as though this is attainable and I can do it!"
~ Kim